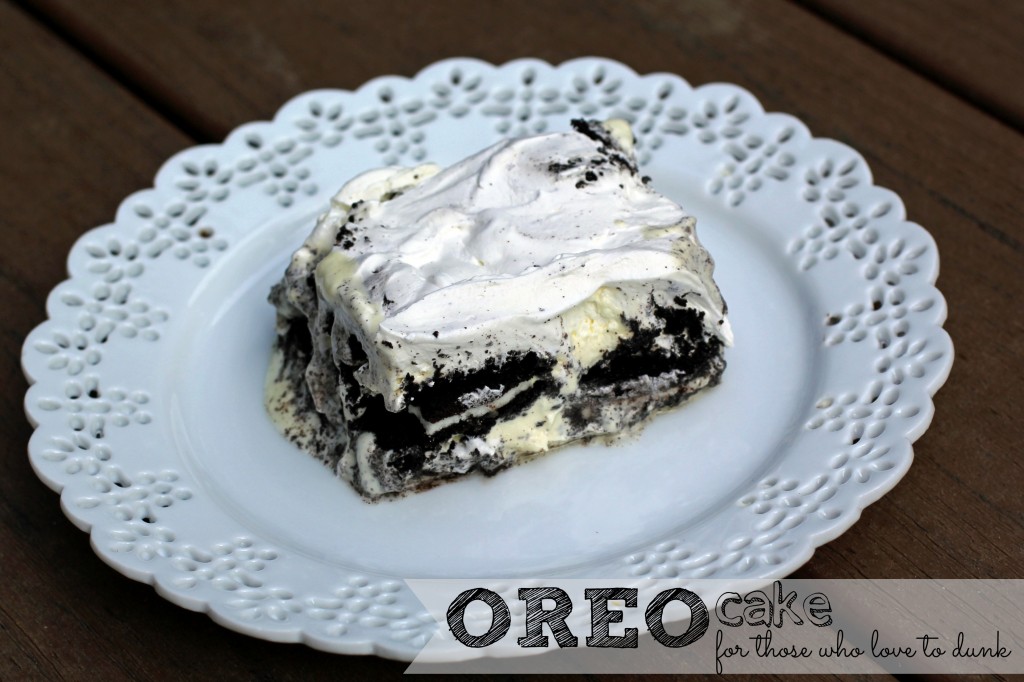 On Friday evening, we had the Cetwinski's over to enjoy our new deck.  We cooked burgers on the grill, allowed the kids to run crazy in the yard (and get covered in mosquito bites), and enjoyed my Oreo cake creation.
On Thursday afternoon, I was trying to think of something I could make that would utilize mostly ingredients I already had.  I ended up making this recipe up as I went and it actually turned out really good.  It's basically a combo of dirt cake and eclair cake.  It tastes exactly like Oreos that have been dunked in milk.  If you're an Oreo dunker, you'll love this cake!
This cake would be perfect for a bbq, potluck, or other family gathering this summer.  Cool, creamy, and delicious!

OREO Cake Creation
2 packages Oreo cookies 1 large box instant vanilla pudding 1½ cup milk 1 - 8 oz. cream cheese, softened 1 cup powdered sugar 2 Cool Whip
Ingredients
In a large bowl combine milk and instant pudding until well mixed. Fold in 1 container of Cool Whip. In another bowl, whip together the cream cheese and powdered sugar. Fold into the other mixture. In a 9x13 inch pan, cover the bottom with Oreos. Pour half of the pudding mixture over the top and place another layer of Oreos and then the rest of the pudding mixture. Top with the remaining container of Cool Whip. Chill for at least 12 hours before serving to achieved the "dunked" Oreo effect.