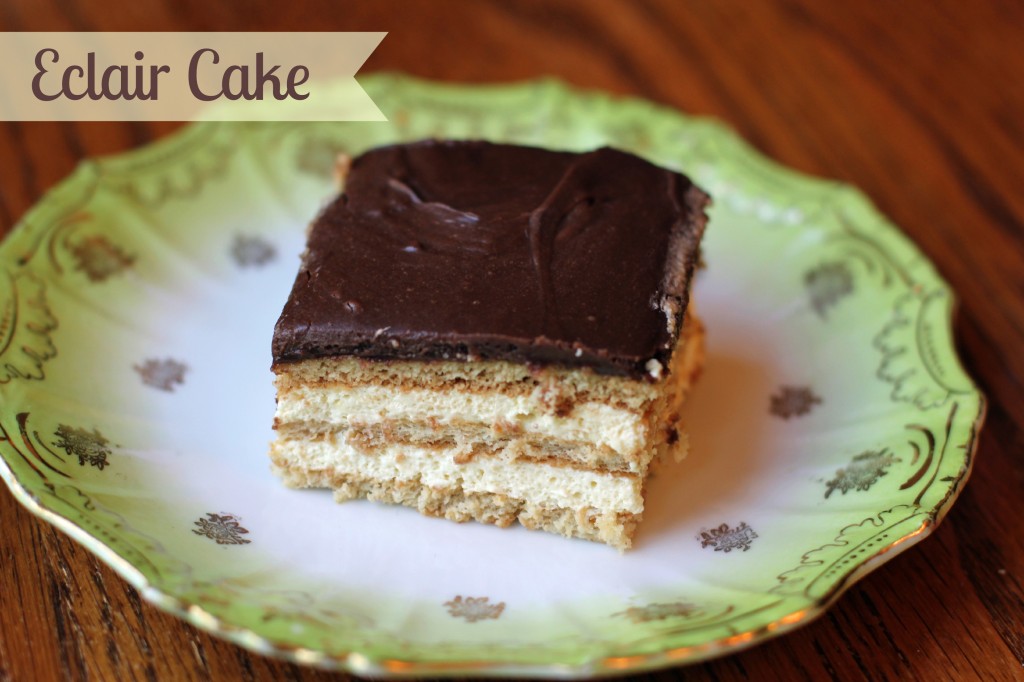 I'm starting to wonder if my best bud Laura is trying to make me fat.  🙂  On Saturday evening, we got together to make tortellini and she made this delicious eclair cake for dessert.  She's made it for me one other time and it always ends up being my nemesis.  I just can't stop eating it.  I had two pieces on Saturday night and then she left the cake at my house — and I've eaten it for breakfast every day this week.  Healthy much?
Laura says that this recipe is quick and easy to pull together — the trick is that it needs to be made at least 24 hours in advance.  However, when you're getting together for dinner that can be nice because it is all made and cleaned up in advance.  The best part — it's delicious!  Even Mike, avid pudding hater, thinks this cake is pretty amazing!

Laura's Eclair Cake
Ingredients
1 box graham crackers
2 large packages instant French Vanilla pudding
9 oz Cool Whip
3 cups milk
1 container chocolate icing
Instructions
Spray a 9x13 inch pan with PAM. In a large bowl, combine the milk and pudding until thick. Fold in the Cool Whip. Place a layer of graham crackers over the bottom of the pan. Spread half of the pudding mixture over the top and add another layer of graham crackers, then the other half of the pudding mixture. Add the last layer of graham crackers (3 layers of crackers total). Microwave the icing for 30 seconds to 1 minute until pourable and pour over the top of the graham crackers. Chill for 24 to 48 hours before serving. This is a recipe that gets better with time!