*****The Weitl clan is on vacation so this post was graciously written by the infamous Laura.  Special thanks to one of my BFFs for contributing!!******
I love Coca-Cola. I love chocolate. I love cake. What I didn't realize until recently is that I could put all of those things together and come up with delicious yumminess.
I love the get togethers we have with the Weitls. I was supposed to bring a dessert for one of our family dinners and decided to make Chocolate Coca-Cola Cake. I had made it once before and shared a few pieces with Jamie and she really liked it so I decided to make it again. No one was disappointed.
Before this recipe, I had never made a cake from scratch. I didn't see the point since opening a box was so easy. After this, though, a box cake just isn't quite good enough. The ingredients are easy to find. In fact, I had all of them in my house when I decided to make it the first time except for one… buttermilk. That was easy to remedy though. Just put ½ Tbsp. of white vinegar into a ½  cup measuring cup and then fill the cup with milk. Let it stand for 5 minutes and you have buttermilk substitute. Clean up is easy as well. There aren't a lot of dishes to deal with. The hardest part is waiting for the cake to cool a bit before pouring on the frosting.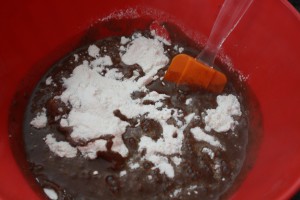 Coca-Cola Cake
Prep time:
Cook time:
Total time:
Ingredients
Cake Ingredients:
2 cups flour
2 cups sugar
½ tsp baking soda
½ tsp cinnamon
2 sticks softened butter
¼ c. unsweetened cocoa powder
1 c. Coca-Cola
½ c. buttermilk
2 eggs
1 tsp vanilla (I used Jamie's Homemade Vanilla)
Frosting Ingredients:
½ c. butter
¼ c. unsweetened cocoa powder
½ c. Coca-Cola
4 cups powdered sugar
Instructions
Cake Directions: Preheat oven to 350degrees. In a large bowl, combine flour, sugar, baking soda, and cinnamon. Set aside. Put butter, cocoa powder, Coca-Cola, and buttermilk in a saucepan over medium heat. Stir until it comes to a boil. Remove from heat and pour it into the flour mix. Stir until combined. Add 2 eggs and 1 tsp vanilla. Mix. Pour into greased 9x13. Bake for approximately 30 minutes. I like to take it out a little early so it is nice and moist.
Frosting Directions: Combine butter, cocoa powder, and remaining Coca-Cola in a saucepan (I use the same one I used for the cake) over medium heat until it comes to a boil. Remove from heat. Slowly whisk in powered sugar until smooth. Pour frosting over warm cake.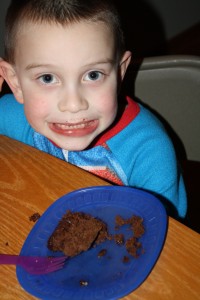 This cake receives 10 Wooden Spoons — a very high honor!  5 from the Weitl clan and 5 from the Kilmartin clan.  We all loved it and devoured it — as you can tell from Cade's chocolatey face above!