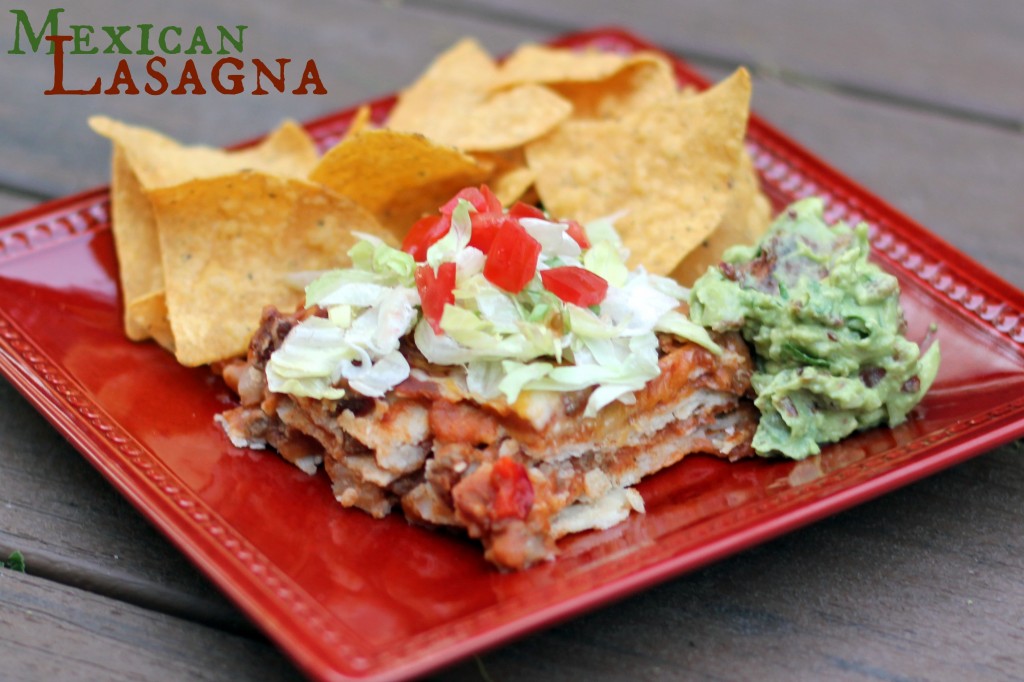 I originally made this recipe about 4 years ago and Mike wasn't a fan.  I made it again last week and he thought it was great.  Someone's palate is expanding.  Thank the Lord!
This recipe is a great alternative to the traditional "taco night" – basically it's a combo of enchiladas and tacos in lasagna form.  It tastes great and reheats very well for leftovers.  I ate it for breakfast the next morning.  I actually ate this four times — two dinners, once for lunch, and once for breakfast.  It's delicious.  We served it with Mike's infamous BLT guacamole.
Definitely a winner — and a recipe that I'll be adding to our regular rotation.

Mexican Lasagna
Prep time:
Cook time:
Total time:
Ingredients
1 lb hamburger
10-15 corn tortillas
1 large can enchilada sauce
1 can fat free refried beans
½ cup chopped onion
½ cup chopped green pepper
1 bag shredded Mexican blend cheese
diced tomatoes
lettuce shreds
sour cream
Instructions
Preheat oven to 350. In a skillet, brown hamburger, onion, and green pepper. Drain. Add enchilada sauce and refried beans and cook until bubbly. Spray a casserole dish with Pam and place tortillas in the bottom (I broke some of them in pieces to mostly cover the bottom. Pour ⅓ of the hamburger mixture over the top of the tortillas and then ⅓ of the bag of shredded cheese. Repeat layers 2 more times. Bake for 20-25 minutes until bubbly. Top with diced tomatoes, lettuce, and sour cream.