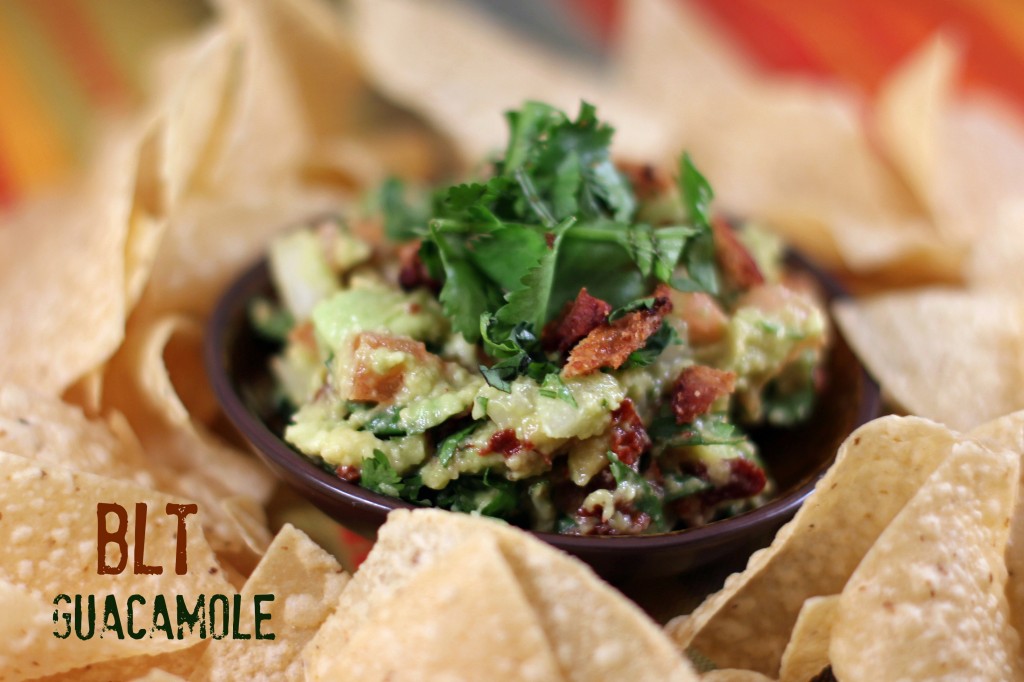 Within the last year, Mike has discovered the beauty of guacamole.  Before, he wouldn't touch the stuff, now he can't seem to get enough.  During his Monday cooking spree last week, he attempted a version of Rick Bayless' guacamole from the "Fiesta at Rick's" cookbook.
Mike and I are huge Top Chef fans (we'll be cruising with Top Chef stars in April!) and discovered Rick Bayless when he was on Top Chef Masters.  When we went to Chicago a few weeks before my 30th birthday we ate at Frontera Grill and I received Rick's cookbook from Mike for my birthday.  It's one of those books we've looked at longingly for awhile but now we're finally venturing to try some of the recipes.  Especially since we both seem to want to eat Mexican food every day!
This guacamole is delicious.  It's spicy with a bit of kick without being overpowering and the bacon adds a smokey goodness that elevates guacamole to a whole new level.  This recipe is a keeper — and one we'll be making again and again!
We did have to venture to the Mexican market for the chipotle chiles en adobo, which are essential for this recipe.  For those of you that are even more rural than we are, I did find them on Amazon.  One can would make several batches of guac.

BLT Guacamole
Ingredients
5 strips thick cut bacon, cooked until crisp and crumbled
3 large, ripe avocados
½ medium white onion, finely chopped
2 or 3 canned chipotle chiles en adobo, removed from canning sauce, stemmed, slit open, seeds removed and finely chopped
1 large tomatoes cored and finely chopped
½ cup chopped fresh cilantro
salt
1 to 2 Tbsp. fresh lime juice
Instructions
Scoop the flesh from the avocados into a large bowl. Using a potato masher or large fork, mash the avocados. Add the onion, chiles, tomatoes, cilantro, and about ⅔ of the bacon. Gently stir to combine. Taste and season with salt and lime juice.
Use plastic wrap to cover the surface of the guacamole until ready to serve. Sprinkle with remaining bacon and a bit of cilantro and enjoy!