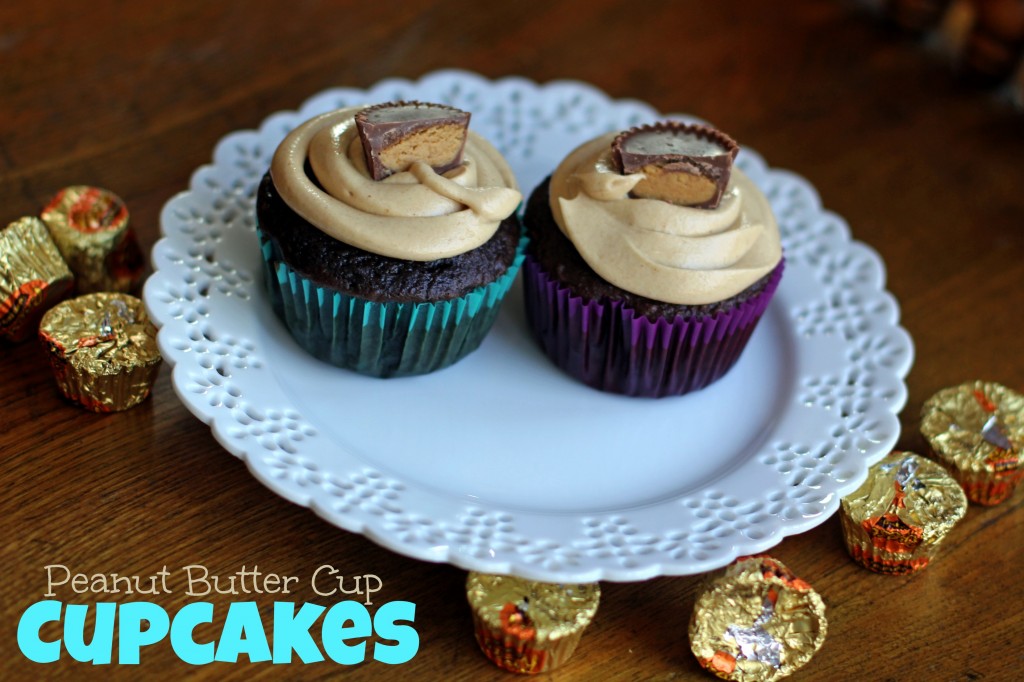 We had a crazy busy weekend.  How we manage to fit so many things between the hours of 4 pm Friday and 7 am Monday is always a mystery to me — but some how we do — and have fun doing it!
Mike and I spent the night in Chicago on Saturday and followed it up on Sunday with two birthday celebrations with the kids.  The first was a birthday party that we attended and the second was a family dinner with the Cetwinski family at our house to make up for Riley's 6th birthday party we missed the previous weekend when the trio was sick.  I took some short-cuts with our meal and our dessert — mostly because we arrived home only 2 hours before our guests were set to arrive.
Instead of making a meal, we ordered pizza, and instead of making homemade cupcakes, I just fancied up a box mix.  However, the resulting cupcakes were amazing!  I loosely based this on the idea behind the Oreo Cupcakes I made previously.  These were quick to throw together and truly tasted fancy — as we discussed that evening, they were much better than some of the local cupcake shops we've tried.  They are definitely worth a bake!

Peanut Butter Cup Cupcakes
Prep time:
Cook time:
Total time:
Ingredients
2 bags individual peanut butter cups
1 box chocolate cake mix
½ cup canola oil
¾ cup water
3 eggs
¾ cup creamy peanut butter
5 Tbsp. butter, softened
2 cups powdered sugar
¼ cup milk
1 bag miniature peanut butter cups (optional)
Instructions
Preheat oven to 350. Line 24 muffin tins with cupcake liners. Place a peanut butter cup (regular size) in the bottom of each tin. Prepare cake mix according to package instructions. Fill each cupcake liner ¾ full. Bake for 18-22 minutes.
Once the cupcakes have cooled, prepare the frosting. Cream together the peanut butter and butter. Add the powdered sugar ½ cup at a time until well combined. Add the milk to reach the desired creaminess and texture for the frosting. I used a Ziplock bag to pipe the frosting onto the cupcakes.
To garnish, cut miniature peanut butter cups in half and place on top of each cupcake.