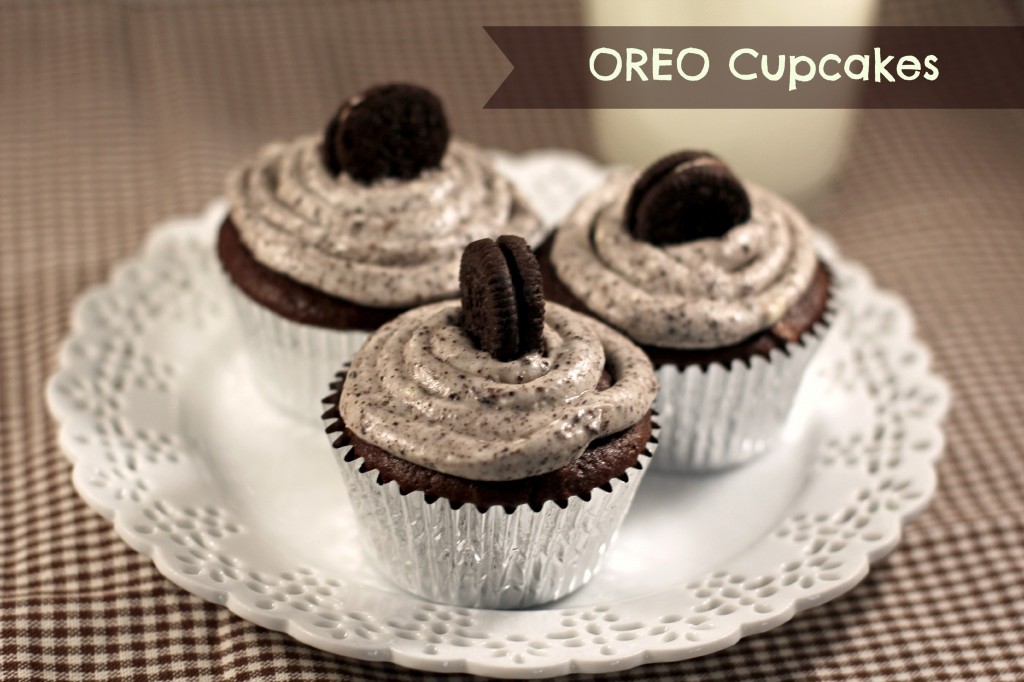 Last Friday, we celebrated the Kilmartin trio's birthday's with bowling and pizza.  I volunteered to make the cupcakes — any excuse to bake some sweet sugary goodness!
That morning, I settled on OREO cupcakes.  These cupcakes spice up a traditional boxed cake mix, but could easily be made completely from scratch as well.  If you're a cookies-n-cream fan, you'll love these.  They smell and taste delicious!
All of the kids enjoyed these cupcakes.  And so did the grown-ups too!  I sent the leftovers home with Laura so I wouldn't devour all of them myself!

OREO Cupcakes
Prep time:
Cook time:
Total time:
Ingredients
1 bag OREO cookies
1 Devil's Food cake mix
3 eggs
½ cup vegetable oil
½ cup water
1 - 8 oz. cream cheese, softened
1 stick butter, softened
2 cups powdered sugar
1 tsp. vanilla
mini OREO to garnish (optional)
Instructions
Preheat oven to 350. Line cupcake cups with liners and place one OREO in the bottom of each cup. Prepare the cake mix according to package directions. Mine called for 3 eggs, ½ cup vegetable oil, and ½ cup water. Once the mix is prepared, chop half of the remaining OREOs into bite sized pieces and fold into the cake mix. Using an ice cream scoop, fill each cupcake liner until it is ¾ full. Bake according to package directions.
Allow the cupcakes to cool and then prepare the frosting. Using a blender or food processor, puree the remaining OREOs into crumbs. In a small bowl, beat the cream cheese and butter until well combined. Add the vanilla. Slowly add the powdered sugar, ½ cup at a time until the desired consistency is reached. Fold in the OREO crumbs. Scoop the frosting mixture into a large Ziploc bag. Cut the end off one side of the bag to pipe the frosting on to each cupcake. Garnish with a mini OREO if desired.