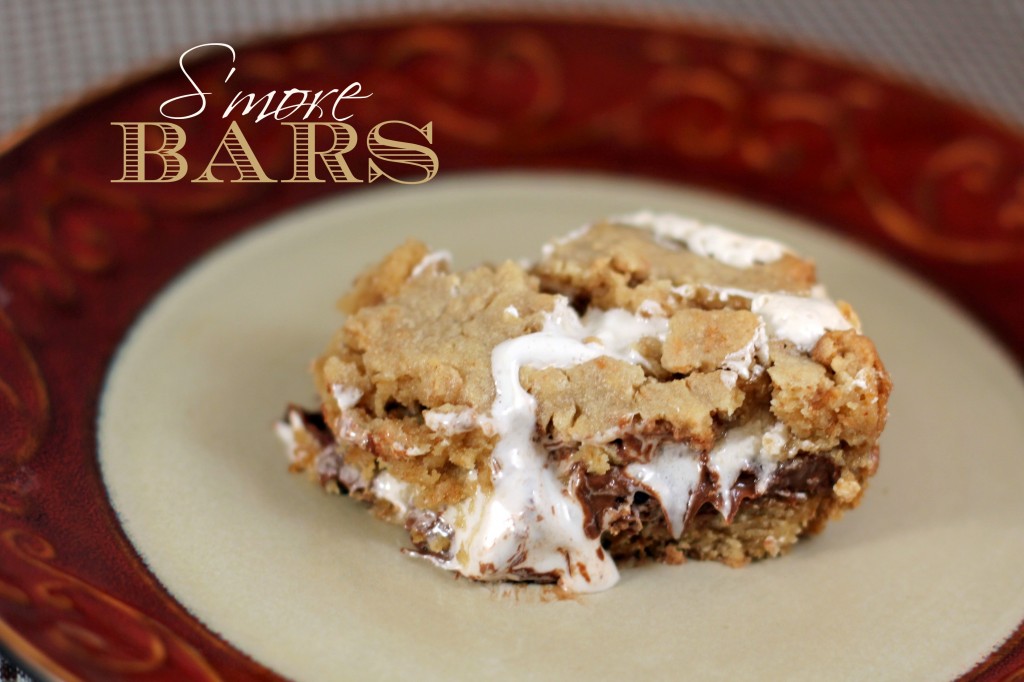 I made these bars a few weeks ago when we were going to the Kilmartin's to watch the Bears game.  I'd originally planned to make cookies but there were three king size Hershey Bars sitting on our counter that one of our neighbors gave the kids for Halloween. I've religiously pinned every s'mores recipe that comes across my feed on Pinterest so I knew there would be a recipe there that would satisfy my love of s'mores and use the Hershey bars in one fell swoop.
I used this recipe from Sugar Cooking as the base recipe for my s'more bars with a few minor adjustments.  My bars are extra marshmallowy and gooey due to extra marshmallow fluff and they definitely aren't as beautiful as hers!
I really enjoyed these bars but I miss the roasted flavor of the marshmallow.  I'm one of those people who likes their marshmallows blackened, so obviously these s'mores didn't provide the cancer-causing carcinogens I was craving from blacked sugar molecules.  However, the gooey factor is definitely there — and they are definitely ooey and messy.  Yum!

S'more Bars
Prep time:
Cook time:
Total time:
Ingredients
½ cup butter, room temperature
¼ cup brown sugar
½ cup sugar
1 large egg
1 tsp vanilla extract
1 cup all purpose flour
1 cup graham cracker crumbs
1 tsp baking powder
¼ tsp salt
2 king-sized milk chocolate bars
2 (8 oz) containers marshmallow fluff
Instructions
Preheat oven to 350°F. Spray an 8-inch square baking pan with PAM. In a large bowl, cream the butter and sugar. Add the egg and vanilla. In a separate bowl, combine the flour, graham cracker crumbs, baking powder and salt. Add to butter mixture and mix until well combined.
Divide dough in half and press half of dough into an even layer on the bottom of the prepared pan. Place chocolate bars over dough. Spread chocolate with marshmallow creme or fluff. Place remaining dough in a single layer on top of the fluff.
Bake for 30 to 35 minutes, until lightly browned.