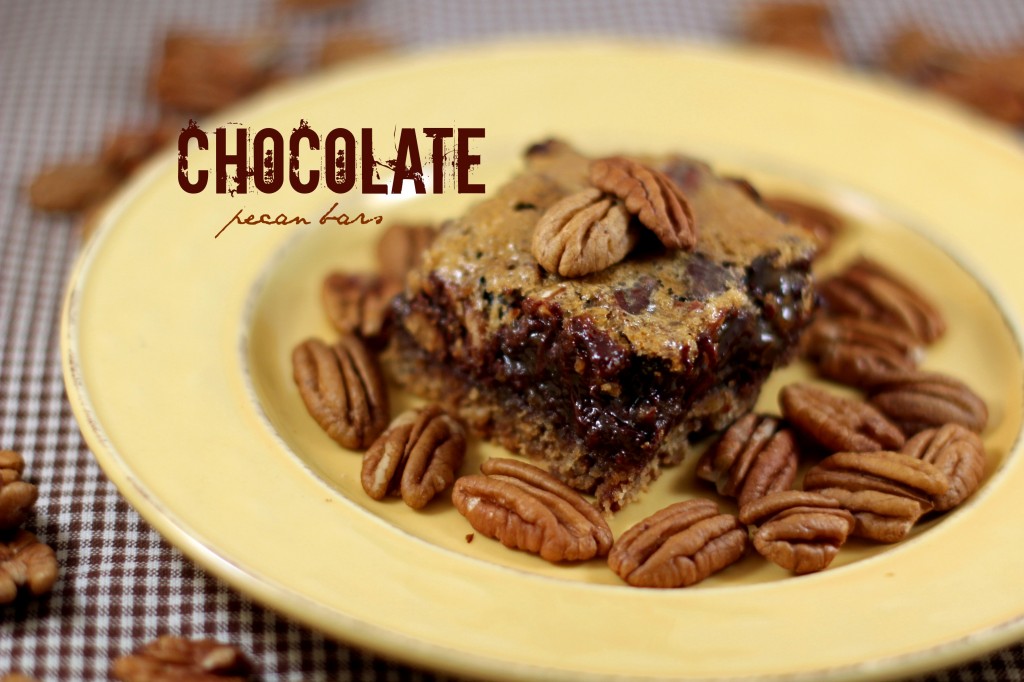 Mike made these phenomenal bars on Monday evening.  He was off work on Monday to celebrate Veteran's Day but our kiddos still had school so while I was working on Monday morning he sprawled out on the bed in my office/guest room and flipped through Rick Bayless's "Fiesta at Rick's" cookbook while making a grocery list for us to tackle.  One of his finds was these little gems.
We had to make a few modifications to Rick's recipe (we couldn't find Mexican chocolate here in the rural Midwest — surprise surprise) but overall the recipe is the same as the one found in the cookbook.
Words can't express how good these are.  They've been my biggest diet weakness this week.  On Tuesday morning, I met some friends for a 5:30 am workout and then came home and blew it all by eating one of these bars for breakfast with a cup of coffee.  Unfortunately, that seems to be how I roll.

Chocolate Pecan Pie Bars
Prep time:
Cook time:
Total time:
Ingredients
2 cups pecan halves
9 oz. bag pretzel rods
4 sticks unsalted butter
½ cup sugar
8 ounces bittersweet chocolate, chopped into pieces not larger than ¼ inch
4 ounces finely chopped semi-sweet chocolate, finely chopped
3 Tbsp flour
6 large eggs
1½ cups dark brown sugar
1½ cups dark corn syrup
1 Tbsp good quality vanilla extract
Instructions
Preheat oven to 325. Toast the pecans on a rimmed baking sheet until noticeably darker and toasty smelling - about 10 minutes. Let the pecans cool, then coarsely chop into ¼ to ½ inch pieces. Scrape into a large bowl.
Meanwhile, chop the pretzels into fine crumbs. In a saucepan melt 2 sticks of butter. Add butter to the food process along with the ½ cup of sugar. Pulse until everything is combined.
Butter the bottoms and sides of two 8x8 inch baking pans. Cut a piece of parchment to fit the bottom of each pan. Butter the parchment. Divide the crumb mixture between the pans and pat into an even layer.
To the pecans, add the two chocolates and the flour. Stir to combine and divide between the two pans. In a small saucepan, melt the remaining 2 sticks of butter. Using a mixer, combine the eggs, brown sugar, corn syrup, and vanilla and beat. Slowly add the melted butter, mixing until the batter looks smooth. Divide the batter between the two pans, pouring it evenly over the chocolate and pecans.
Bake for 45 to 55 minutes until the center is almost firm. Let cool to room temperature and refrigerate for easy cutting. Use a knife to loosen the sides, then turn out. Cut into 2-inch squares.
These would be an outstanding alternative to traditional pecan pie for your upcoming Thanksgiving meal or for your holiday baking. Amazingly good!