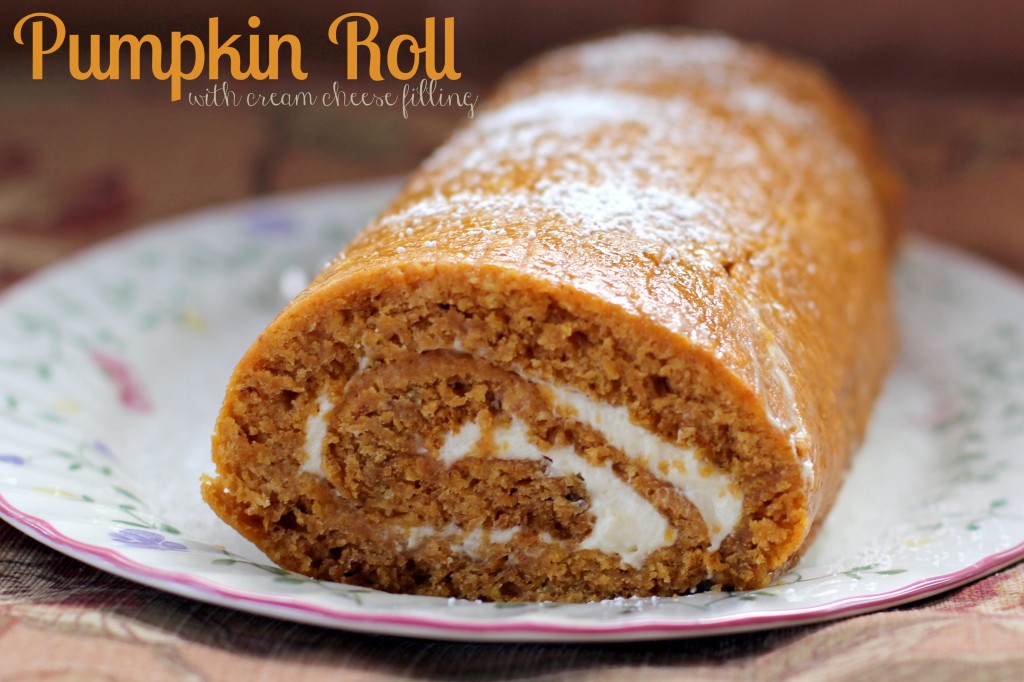 Last Wednesday, Mike and I spent the afternoon baking for Thanksgiving.  Mike made chocolate pecan bars and I made pumpkin pies, pumpkin roll, and pecan pie.  I first made this pumpkin roll in September of 2001 using a recipe from AllRecipes.com.  That feels like the dark ages — I was in college, it was pre-Mike, and very pre-Pinterest.
Luckily, AllRecipes.com saves all of my past recipes so I was easily able to find the recipe and thought it would be relatively painless to pull together as I've made it several times and never had any issue.  However, since I'm all about keeping it real, here's a picture of what my first attempt at this pumpkin roll came out looking like last week.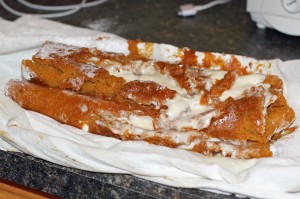 Yeah, there was no way I was serving that at our Thanksgiving dinner.  Mike ran to the store to obtain the ingredients I needed to try again (cream cheese) and the photo above is of the finished product that turned out much more appealing.  I think the issue with the first roll is that the cake was not fully cooked.  I baked it the 15 minutes noted on the original recipe but for the second I baked for 18 minutes.  I also let the successful cake cool longer than the original recipe states – I let it cool almost an hour instead of the 20 minutes recommended.
This pumpkin roll is always a hit and went over well at our Thanksgiving gathering.  It's the filling that makes it so delicious.  Anna thought so anyway…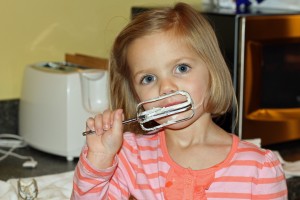 Pumpkin Roll
Prep time:
Cook time:
Total time:
Ingredients
¾ cup flour
1 cup sugar
1 tsp. baking soda
2 tsp. pumpkin pie spice
1 cup pumpkin puree
3 eggs
1 tsp. lemon juice
1 - 8 oz cream cheese, softened
¼ cup butter
1 tsp vanilla
1 cup powdered sugar
Instructions
Preheat oven to 375. Line a 9x13 inch jelly roll pan or cookie sheet with parchment and spray with Baking PAM.
In a large bowl, mix together the pumpkin puree, eggs, and lemon juice. Add the sugar, baking soda, pumpkin pie spice, and flour, stirring well to combine. Spread the mixture evenly on the to the prepared pan and bake for 15 to 18 minutes.
Lay a damp linen towel on the counter and sprinkle it with confectioner's sugar. Turn the cake onto the towel and roll the towel up with the cake in it. Place the rolled cake-in-towel on a cooling rack and cool for at least 40 minutes.
To prepare the filling, blend the cream cheese (soften in the microwave for 10 seconds if needed), butter, and vanilla. Once combined, add the powdered sugar and blend well.
When the cake has cooled, unroll it and spread the filling. Immediately re-roll and wrap in plastic wrap. Refrigerate and cut into slices to serve.