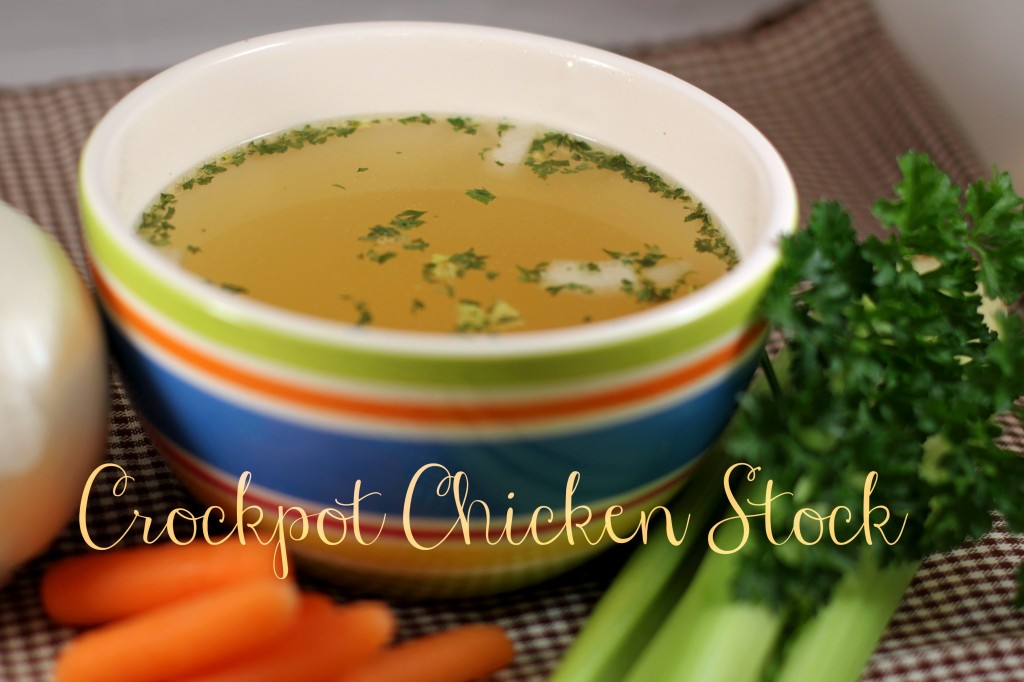 I've spent the afternoon making dinner to take to one of my friends who just had her fourth child.  The primary ingredient in many of the dishes that I made (and will hopefully be sharing with you soon) is this amazingly easy, cheap, and delicious crockpot chicken stock.
Mike and I just discovered the wonders of making our own chicken stock about a year ago.  We make large batches and freeze it so we always have homemade chicken stock on hand.  I think the flavor is much deeper than the canned broth — plus it's significantly cheaper too.  Especially for days like today when I need mass quantities!  Today I used over 10 cups of chicken stock!
The main ingredient in our stock is the carcass of a rotisserie chicken.  Every couple of weeks Mike will pick one up on his way home from work for an easy dinner.  The kids love it plain and we enjoy making wraps with the shredded meat.  Once we've picked it clean (or as clean as we want — we aren't big fans of the dark meat) I throw it in the crockpot with ingredients that we always seem to have on hand and let it simmer away for a day or so before straining and freezing.  Homemade chicken stock is the base for many of my recipes.

Crockpot Chicken Stock
Prep time:
Cook time:
Total time:
Ingredients
Rotisserie Chicken Carcass
2-3 stalks celery, chopped
½ onion, chopped
8-10 baby carrots, chopped
1 Tbsp olive oil
2 Tbsp minced garlic
2 Tbsp. parsley, dried or fresh
2 cubes chicken bouillon
8-10 cups water
Instructions
In a large crockpot, drizzle the oil and add the chopped celery, onion, carrots, and garlic. Let simmer a bit until the veggies are warm and then add the chicken carcass, water, and parsley. Simmer on low for 10-12 hours. Strain. Stock can be used immediately or frozen.