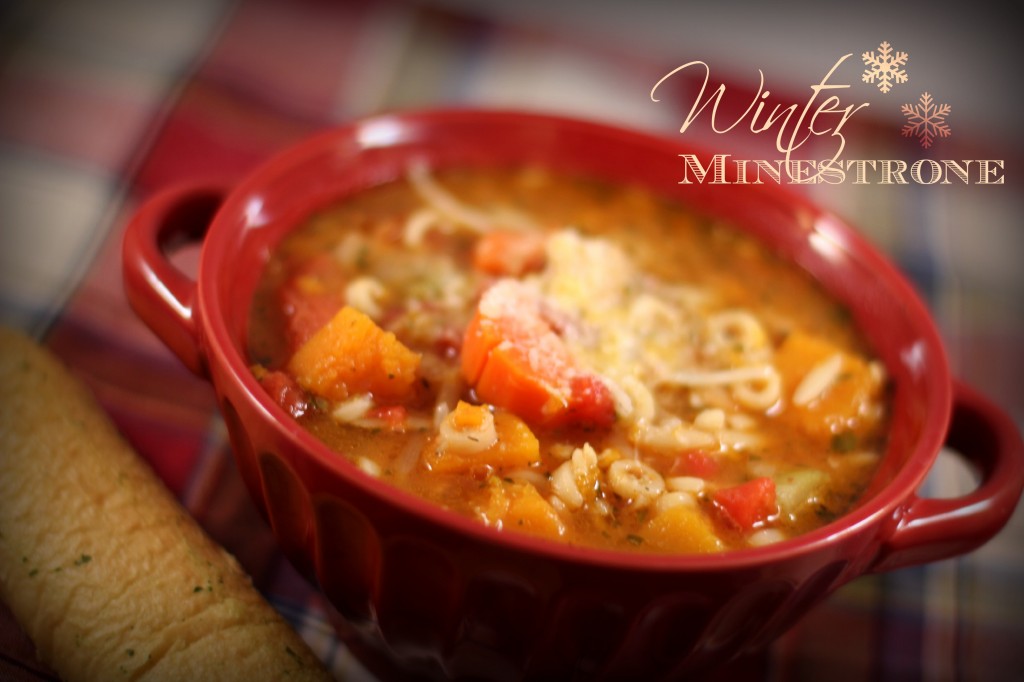 Last week, the weather report said that there was a blizzard coming — it turned out to be nothing more than a dusting of snow and a bit of strong wind.  The cold, dark, dreary, blustery day was the perfect opportunity to throw together a hearty winter minestrone soup.
The recipe I based this soup on is from the Barefoot Contessa.  I used different quantities and left out a few ingredients.  Spinach in soup just seems weird to me — but who knows.  🙂
It takes awhile to chop all of the veggies for this soup — and you'll want to have your homemade chicken stock already prepared and on hand.  For a snowy evening at home, this soup is thick, rich, and satisfying.
I served it with breadsticks and fruit.  The kids wouldn't touch it — they aren't soup fans — but even Mike, the vegetable hater himself, ate a bowl — picking out the chunks.

Winter Minestrone
Prep time:
Cook time:
Total time:
Ingredients
2 Tbsp. olive oil
4 ounces pancetta, diced
1 medium yellow onion, chopped
3 to 4 carrots, chopped
2 stalks celery, chopped
1 small butternut squash, diced
1½ tablespoons minced garlic
2 tsp. Thyme
26 oz. can diced tomatoes
6 cups chicken stock, preferably homemade
1 bay leaf
salt and pepper to taste
1 - 15 oz. can cannellini beans, drained and rinsed
1 cup small pasta, I used orzo
½ cup good dry white wine
5 Tbsp. pesto sauce
Parmesan cheese, grated finely
Instructions
Cook the pasta and set aside.
In a dutch oven, heat the olive oil over medium heat. Add the pancetta and cook for 6 to 8 minutes until lightly browned. Add the onions, carrots, celery, squash, garlic, and thyme and cook over medium heat until the vegetables begin to soften.
Add the tomatoes, chicken stock, bay leaf, salt, and pepper. Bring to a boil for 20 minutes or until the vegetables are tender.
Discard the bay leaf. Add the beans and cooked pasta and allow to simmer until meal time. Stir in the white wine and pesto 5 minutes before serving. Dish into bowls and sprinkle with parmesan cheese and serve with warm bread.
Maybe you can enjoy this soup to reintroduce a few veggies after the massive eating that will take place over the next few days! I'll be posting sporadically until after Christmas break, then I'll hopefully be back to my three times a week posts. 🙂 Enjoy your holiday season!