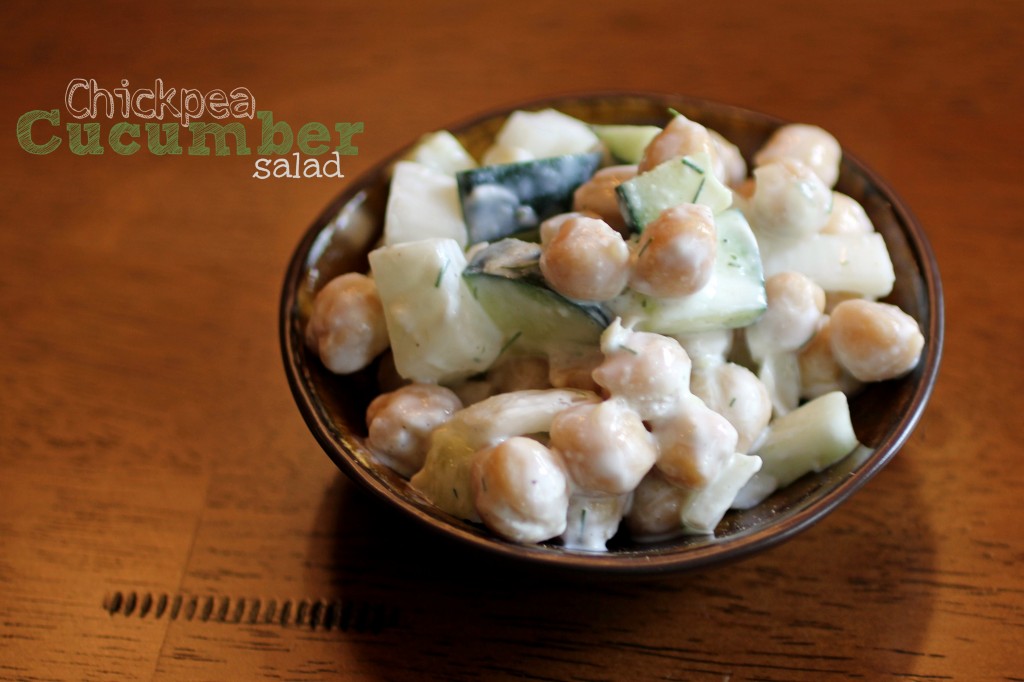 In late February, Mike and I tried Blue Apron meals for a few weeks.  We really enjoyed them and ended up trying many new foods as result.  It was a fun experiment and I think we will probably do a few more weeks again in the future.
One of the recipes we tried was a chickpea and cucumber salad.  It was paired with salmon and I ate the leftover salad for lunch the next day.  Since then, I haven't been able to get the salad out of my head — so I made my own last night, with a few modifications. This recipe is loosely based on that meal.  Even Mike ate it — and these are mostly ingredients he won't typically eat.
This salad makes a great side dish for fish or poultry.  It's also a great lunch dish or a side to take to a cookout or potluck.  It seems perfect for the season as everything is finally turning green in our area after a very long, snowy winter.  This salad tastes like Spring!

Chickpea Cucumber Salad
Ingredients
3 Tbsp. lemon juice
⅓ cup soft, crumbly goat cheese
¼ tsp. garlic salt
¼ tsp. black pepper
1 can chickpeas, rinsed and drained
1 cucumber, chopped
¼ of a red onion, chopped
2 tsp. dill weed, minced,
Instructions
In a small bowl, combine the lemon juice, goat cheese, garlic salt, and pepper. Stir to combine into a dressing-like texture. Set aside. In a larger bowl, combine the chickpeas, cucumber, red onion, and dill weed. Mix well and add dressing -- stirring to coat. Serve immediately or refrigerate.