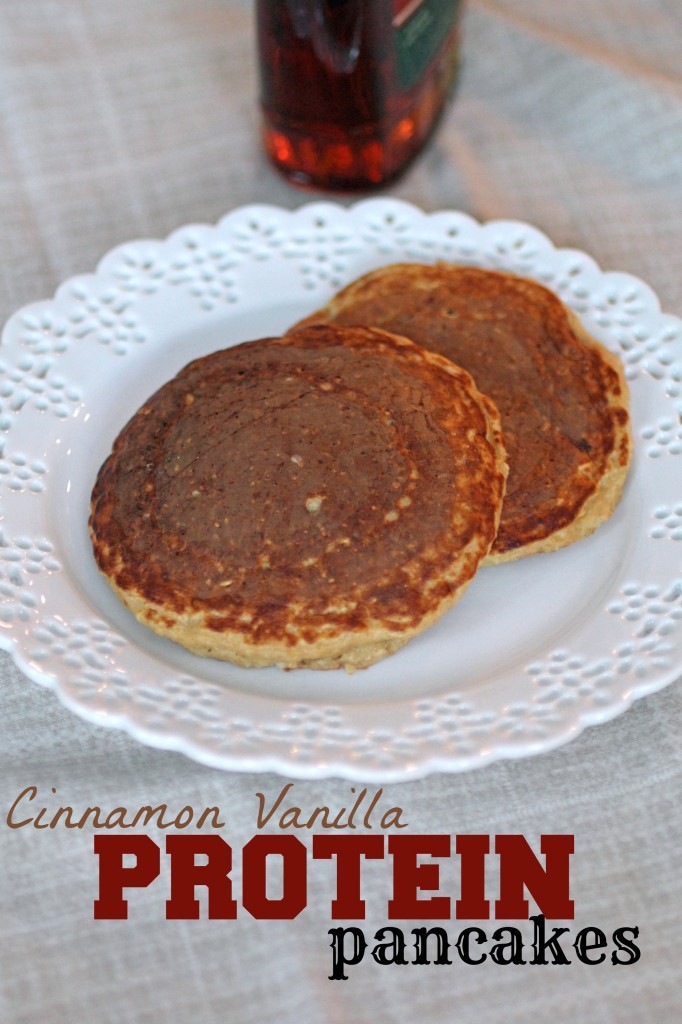 Most weekends, we make a big breakfast at least one weekend morning.  Favorites include pancakes, waffles, Mike's famous cheesey scrambled eggs, and bacon.  This weekend, I decided to try out these protein pancakes.  I'm trying (and mostly failing) to eat more protein and fewer carbs and I was curious to see if the trio would eat this creation.
All three of the kids liked them.  Clara wasn't as in enamored as Bo and Anna, but she ate them as well.  The combination of ingredients seems a bit strange, but the taste is really quite good — and I didn't even miss all of the flour and sugar in my traditional recipe.  I served ours with a small amount of maple syrup.  If you want a real protein bang, try them with almond butter or peanut butter on top!
If you're visiting from my friend Amber's blog, Becoming a Coupon Queen, welcome!  I hope you enjoy the recipes and knowing that Amber needs a recipe each week is helping me to be a bit more motivated about taking photos of the food I making!  If you haven't visited Amber's site, go check it out.  She has lots of good money saving tips!

Cinnamon Vanilla Protein Pancakes
Prep time:
Cook time:
Total time:
Ingredients
2 cups liquid egg whites or 12 egg whites
2 cups old fashioned oatmeal
2 cups cottage cheese
4 Tbsp. sugar or sweetener of choice
1 Tbsp. cinnamon
1 Tbsp. vanilla
Instructions
In a high-powered blender (I used a Ninja) combine all ingredients and pulse until smooth. Cook pancakes over medium heat until cooked through. Serve with maple syrup and butter, almond butter, peanut butter, or other toppings of your choice. Recipe can easily be halved or extra pancakes can be frozen for quick breakfasts later.