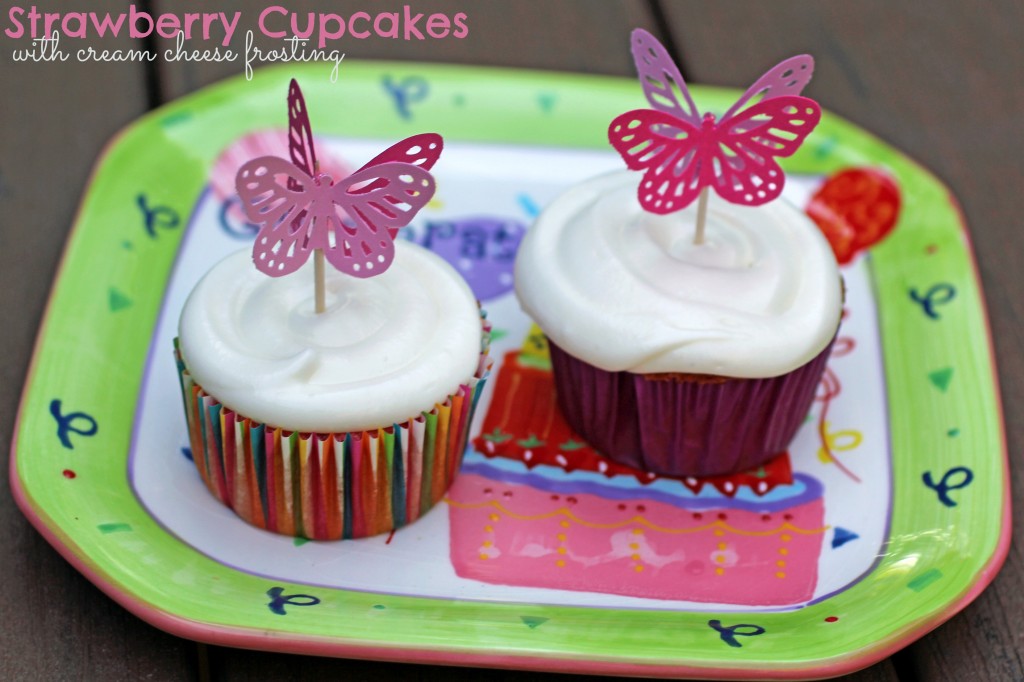 Anna and Clara recently celebrated their 4th birthday!  It's impossible to me that I have 4 year olds!  It feels like they were just born yesterday (and like I've known them forever)!  They chose a pink and purple butterfly theme so I tried to carry that through all of their parties (you can see more about their birthday celebrations on my family blog).
Since we were going with a pink and purple theme, I thought pink strawberry cupcakes would be perfect.  These cupcakes have a great strawberry flavor and are very easy to pull together — which is a good thing!  I made 4 batches of these cupcakes two days before their birthday.  We took cupcakes to school, cupcakes for their pizza party, and then more cupcakes for their family party.  I was the cupcake queen for a few days! 🙂
I made the butterfly picks for the cupcakes.  I used this butterfly punch with pink cardstock and then glued two of the butterflies on to a toothpick using glitter glue.  I originally found the idea on Pinterest.

Strawberry Cupcakes with Cream Cheese Frosting
Prep time:
Cook time:
Total time:
Ingredients
Strawberry Cake
1 box white cake mix
1½ cups water
⅓ cup oil
3 egg whites
3 Tbsp powdered sugar
1 small box strawberry Jell-o
½ cup strawberry preserves
Cream Cheese Frosting
1 stick butter
9 oz. cream cheese (3- 3oz packages)
6 cups powdered sugar
2 tsp fresh lemon juice
1 tsp vanilla
Instructions
Mix all cake ingredients in a medium bowl using a hand mixer. Distribute batter into 24 muffin cups and bake according to directions on the box.
For the frosting beat the butter until creamy. Add the cream cheese. Add remaining ingredients and mix until light and fluffy!