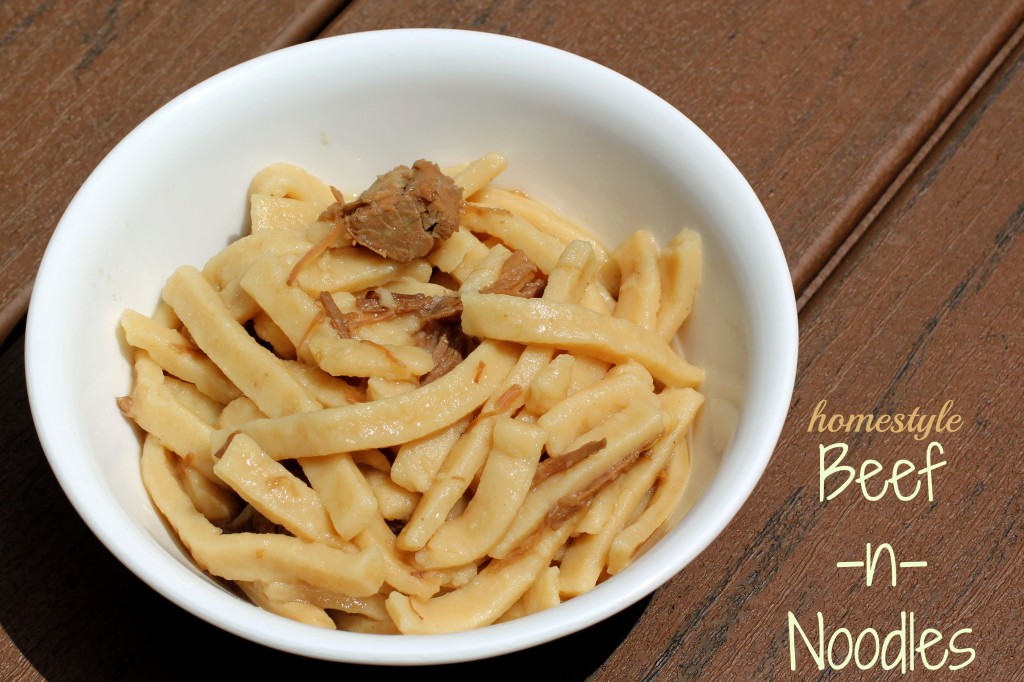 These noodles were my favorite meal growing up.  My mom would serve them with mashed potatoes and green beans with shelley beans and I couldn't have been happier.  Now, my trio enjoys them.  And the best part — they are super easy to make thanks to a secret ingredient from the freezer section that makes them "semi-homemade."
The secret ingredient is Reese's frozen noodles.  Instead of slaving over homemade noodles, I just grab a package of these and cut the prep-time significantly.
Apparently, beef-n-noodles is a "southern" thing — not the true south — but a Southern Illinois thing at least.  After I married Mike (he's from the suburbs of Chicago) and made noodles as part of the meal for the first Thanksgiving I hosted — I quickly learned that these noodles aren't "normal" in families from North of I-80.
No matter if you've had beef-n-noodles before or you've never tried them — give this recipe a try.  They are a delicious comfort food and I've yet to meet a kid who doesn't love them.

Beef-n-Noodles
Prep time:
Cook time:
Total time:
Ingredients
4 cups beef stock
1 cup cooked beef chunks (I use leftover roast beef)
2 beef bullion cubes
water
1 bag Reese's Frozen Noodles
pepper
salt
Instructions
In a large pot (I use a stew pot) combine the beef stock, beef chunks, and beef bullion cubes. Add water until the pot is ¾ full. Heat until boiling. Add the noodles and reduce heat. Cook on low for several hours, adding water as needed. The longer they cook, the better they taste! Add generous amounts of pepper and salt before serving. Great with mashed potatoes.