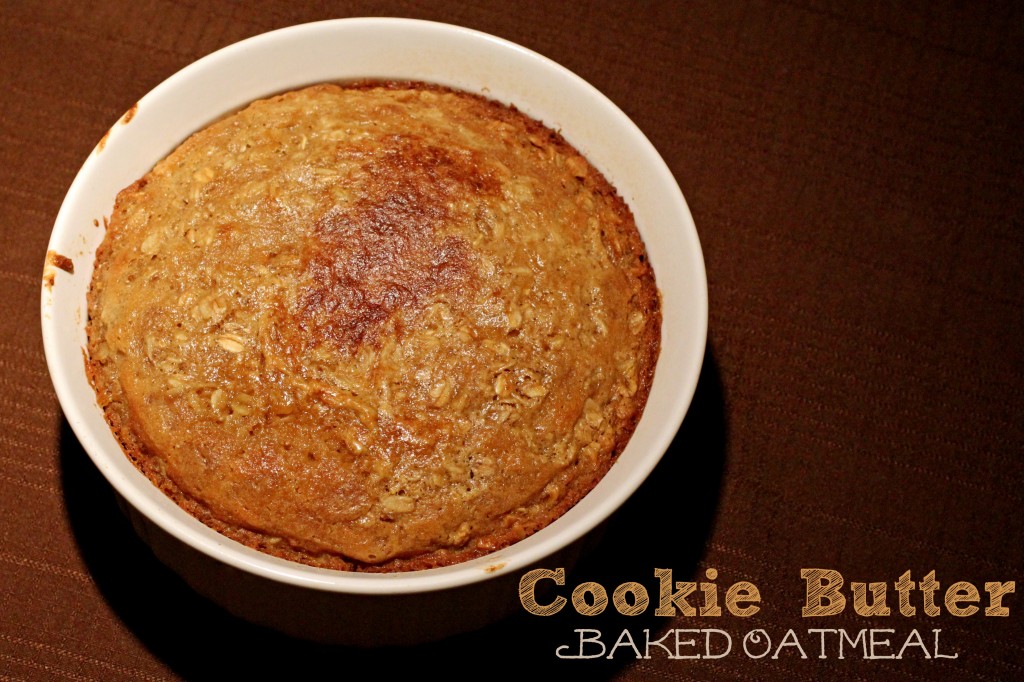 Recently, breakfast has been baking time.  With the trio on summer break, we rarely have anything scheduled before 10 am, which gives us plenty of time to make yummy breakfast goodies in the morning.
This recipe was inspired by a jar of Trader Joe's Cookie Butter that has been hanging out in my cabinet since Christmas.  It's similar to Biscoff spread so either ingredient should work in this recipe.  The resulting oatmeal has that spicy cookie flavor — and it was the perfect recipe for the dreary and rainy day.  (Pardon the photo quality — it was raining and dark so there was no natural light).
I made this in a round 2 quart Corningware dish, but when I make it again I think I will make it in a 9×13 inch pan and cut it into squares.  Also, you can serve it with syrup, but I didn't think it was necessary so we just ate ours plain.  The kids loved it.

Cookie Butter Baked Oatmeal
Prep time:
Cook time:
Total time:
Ingredients
1¾ cups old fashioned oatmeal
1½ tsp baking powder
½ cup Cookie Butter
1¼ cup milk
3 eggs
1 tsp vanilla
¼ cup sugar
Instructions
Spray a large dish (round or 9x13) with PAM. In a large bowl, mix the oats and baking powder together. In a separate bowl combine the cookie butter, eggs, milk and vanilla and mix well. Mix the dry ingredients and wet ingredients together and pour into prepared pan. Bake for 25-30 minutes or until set.
Anna requests chocolate chip oatmeal nearly every day and she gave this "special" Cookie Butter Baked Oatmeal two thumbs up — and a tongue out for good measure. 😉