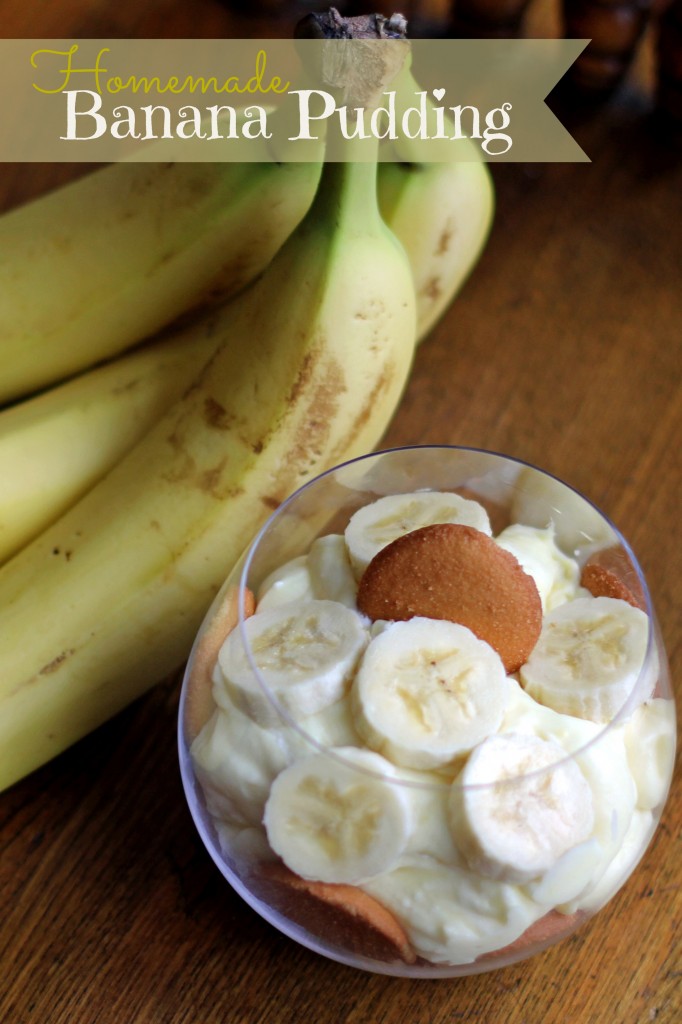 I've made this recipe four times in the last 5 days.  Yes, seriously.  Take it as evidence that this banana pudding is amazingly good — and that it's super quick and easy to prepare — and that I've been making dinner and desserts for too many people this week!  I need a nap!  🙂
On Saturday, we celebrated my Mother-in-Laws' birthday and she requested banana pudding and French Silk Pie.  I made a double-batch of both for her birthday celebration with the family.  On Sunday, I made it again as we hosted dinner for a friend and her family.  On Wednesday, I made it again, as we hosted Mike's boss for dinner. Apparently, I'm on a banana pudding kick.
My mom first made this recipe for me when I was in high school and it became one of her staple dessert recipes since I enjoyed it so much.  I didn't make it myself for the first time until a few years ago when my mom gave me a binder for Christmas of some of her most loved recipes.  Now, I know the recipe by heart, which makes it even easier!
This pudding receives 5 wooden spoons from my family.  We all love it.  Mike, Bo, and Clara refuse to eat bananas on theirs (so it's really vanilla pudding…. details…) but both Anna and I like the bananas on ours.

Banana Pudding
Ingredients
1 pint heavy whipping cream
1 can sweetened condensed milk
1½ cups water
1 small box Jell-O instant vanilla pudding
1 box vanilla wafers
2-3 bananas
Instructions
In a mixing bowl, whip the heavy whipping cream until stiff peaks form. In another bowl, combine the sweetened condensed milk, water, and instant pudding mix -- mixing well to avoid lumps (I usually end up blending this with the hand mixer). Fold the whipped cream into the pudding mixture until combined and uniform in color. Layer the dessert by placing a layer of vanilla wafers, a layer of bananas, and topping with the pudding mixture. Repeat until all of the pudding is layered. Allow to chill for 2-3 hours before serving.