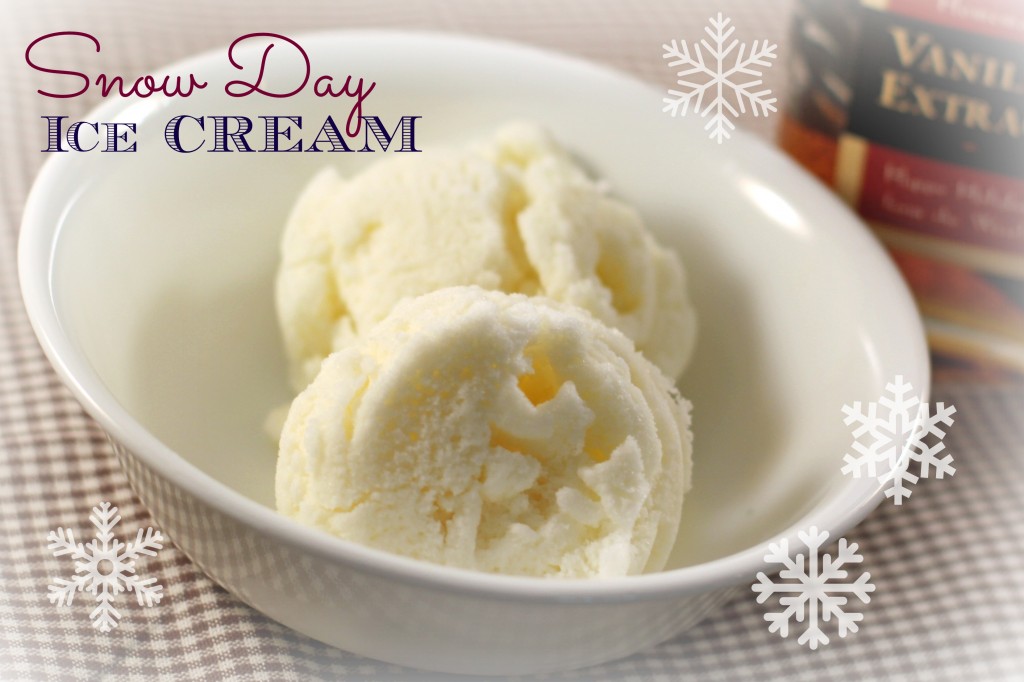 If you're in one of the many states currently experiencing a winter storm, let me introduce you to a beautiful little secret – snow ice cream.  My kiddos aren't huge fans of hot chocolate – I think in part because it's hot.  Bo will drink it but it truly isn't something that the kids are excited about.  (And yes, I find this very strange — personally, I love hot chocolate.  Maybe when they are a bit older!)
The trio was dismissed from school early today and Mike's work closed early as well due to our winter storm.  I had everyone home for the afternoon and we made the most of it by playing out in the snow.  We "helped" Mike shovel the driveway (he mostly used the snow blower) and then built a snowman and a snow fort in the yard.
After we stripped off our wet snow pants and boots, I threw together this snow ice cream – literally in minutes.  This recipe is extremely easy and provides instant gratification.  The trio all sat on the barstools at the counter and slurped this up in no time.  It's delicious!  If you like vanilla ice cream, I promise this will be a recipe you will enjoy!

Snow Day Ice Cream
Ingredients
1 cup white sugar
3 Tbsp good quality vanilla extract
1 cup milk
1 cup heavy whipping cream
snow
Instructions
In a medium bowl, combine the white sugar with the vanilla. Add the milk and heavy cream and stir until well combined. Using an ice cream scoop or measuring scoop, scoop packed snow into individual bowls (I filled a large bowl with snow and brought it inside). Pour cream mixture over the top of each scoop until it looks coated and absorbed. Serve immediately.