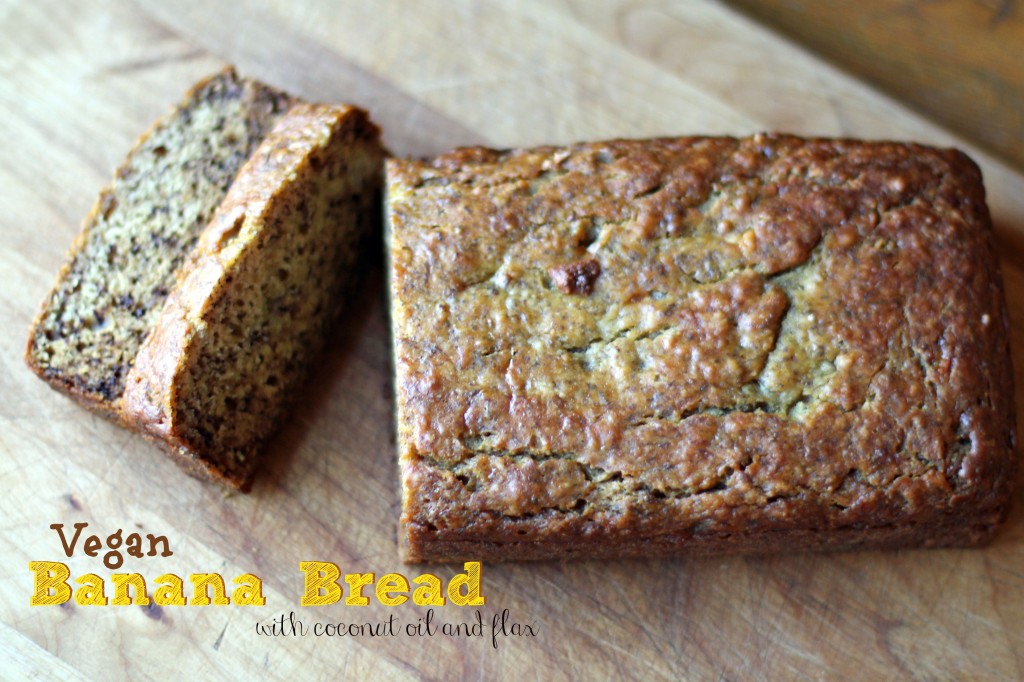 The picture doesn't begin to do this banana bread justice.  It's delicious!  Moist, yummy, and highly munchable.  My kids love it.  So much so that Clara and Anna got in trouble on Friday afternoon for ripping chunks of the warm loaf off and eating them in the kitchen while I was folding laundry.  Needless to say, even though the picture isn't great, our loaf of banana bread didn't look this nice for long…
I originally developed this recipe when I was out of eggs and wanted to make banana bread by replacing the eggs with flax.  I loved how it turned out so much that I've made it this way numerous times.  I think it yields a more flavorful loaf — with loads of extra fiber!
We ate this bread for dessert on Friday and breakfast on Saturday.   Gotta love recipes that double as a dessert and a breakfast! This banana bread receives 4 Wooden Spoons from our family.  Mike won't touch anything that has banana involved.

Vegan Banana Bread with Coconut Oil and Flax
Prep time:
Cook time:
Total time:
Ingredients
2 Tbsp flax seed mixed with 6 Tbsp water
2 medium sized very ripe bananas, mashed
½ cup sugar (I am sure you could replace with agave or honey, but I haven't tried it)
½ cup applesauce
3 Tbsp coconut oil
1 tbsp vanilla
1 tsp baking soda
1.5 C flour (white/wheat/or a mixture)
½ tsp salt
Instructions
Preheat oven to 350. In a measuring cup, combine flax and water and stir. In a medium bowl, mash the bananas with the sugar, applesauce, and vanilla. Add the flax mixture and then add the baking soda, salt, and flour. Mix until just combined. Bake for 55 minutes. Moist and delicious! This recipe makes 1 loaf.