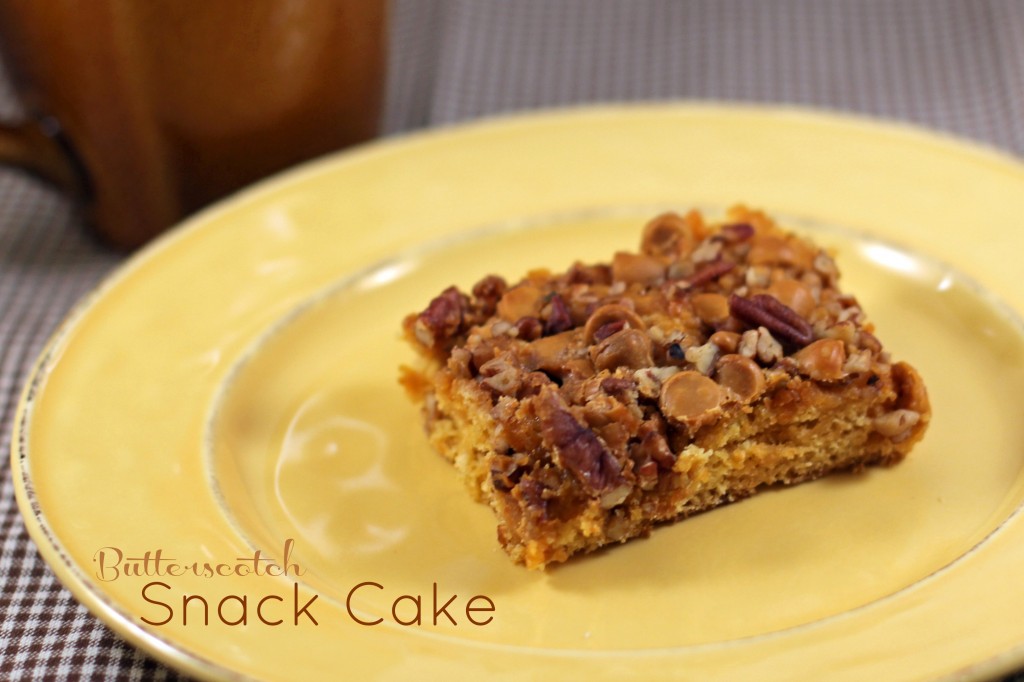 I'm alive — we've been drowning in Christmas celebrations and I'm finally starting to come up for air now that the kids are back in school.  We've had so much fun, but returning to our normal routine is kind of nice too. 🙂
You've seen my friend Laura's recipes here before.  We manage to share a meal with our families fairly regularly and recently enjoyed a fun trip to the Dells together.  We are always doing something fun!  She first made this cake for a girl's night at my house last year — and left the leftovers at my house.  I picked at the cake for days — eating it for breakfast, lunch, snacks, until it was finally gone.  It's one of those cakes that I think about obsessively when I know it's sitting on the counter.  Let's just say I don't recommend making this if losing weight is part of your resolution this year…
This cake is loved by all — including my trio.  It's moist, sweet, and ridiculously quick and easy!

Laura's Butterscotch Snack Cake
Prep time:
Cook time:
Total time:
Ingredients
1 - 3.5 oz Butterscotch Cook and Serve Jell-O Pudding
2 cups milk
1 yellow cake mix
1 - 11 oz. butterscotch chips
½ cup chopped walnuts or pecans
Instructions
Preheat oven to 350. In saucepan, combine pudding and milk and bring to a boil over medium heat. Stir in dry cake mix. Pour into a 13x9 inch pan sprayed with PAM. Sprinkle with chips and nuts. Bake for 35 minutes.