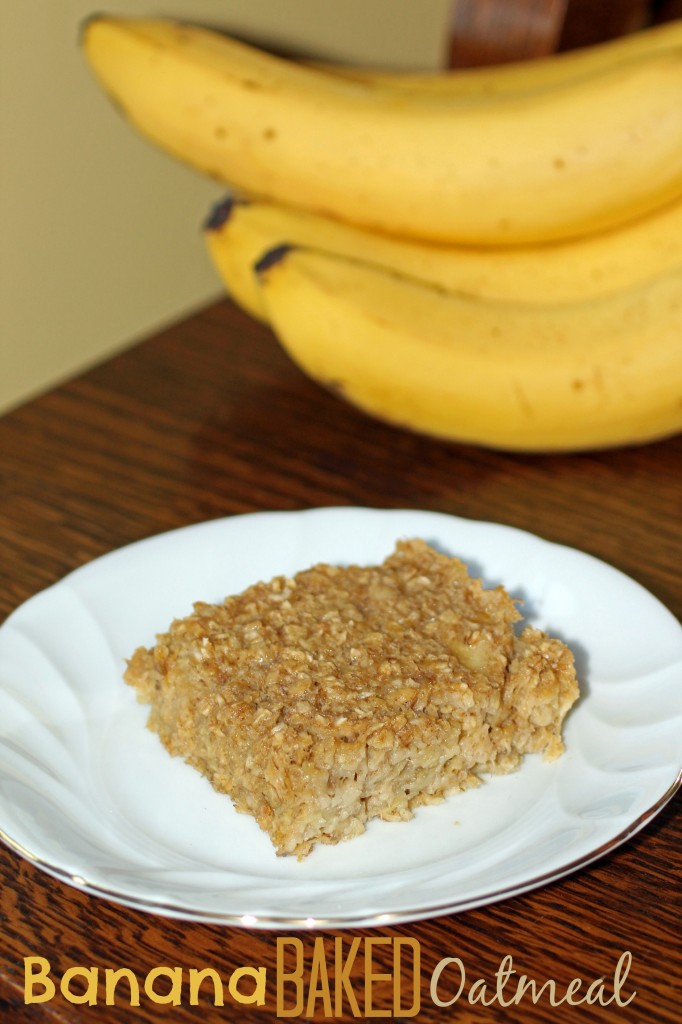 I made this baked oatmeal on Tuesday morning for my trio to have for breakfast before school.  We had several very ripe bananas that needed to be used after spending the long weekend in the Wisconsin Dells.  The trio love to help me cook and both Clara and Bo helped to mash the bananas and combine the ingredients, which helped them to think that breakfast was extra wonderful since they helped make it.  Anna was still asleep (by some miracle) and they were sure to encourage her to thank them for making breakfast. 😉
This recipe is a great weekday morning breakfast — it's healthier than many breakfast options and tastes great with a smear of peanut butter on top.  I served it to the kids with glasses of milk – and enjoyed a cup of coffee with mine.
This makes 12 servings, but it is very good leftover and can be frozen in squares for an extra quick "on the go" breakfast option.

Banana Baked Oatmeal
Prep time:
Cook time:
Total time:
Ingredients
5 overly ripe bananas, mashed
2 eggs
½ cup brown sugar (you can use an alternative sweetener)
3 cups quick cook oatmeal
2 tsp. baking soda
½ tsp. salt
1 cup almond milk (any milk you have on hand will work fine)
Instructions
Preheat oven to 350. Spray a 9x13 inch pan with PAM. In a large bowl, mash the bananas. Add the eggs and brown sugar and continue mashing until it is well combined. Stir in the oatmeal, baking soda, salt, and milk. Pour mixture into pan and bake for 30-35 minutes. Cut into squares and serve. Great topped with a smear of peanut butter.