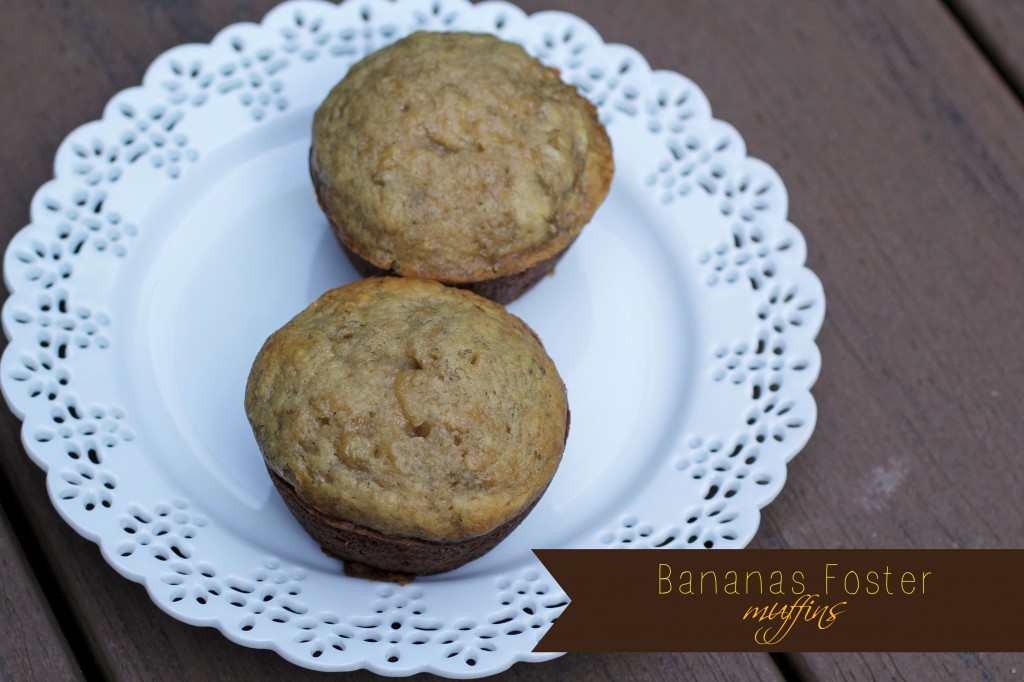 Sorry for the hiatus.  Vacation.  Work.  Summer break.  A brief stint in hard-core low-carbing.  None of it has been conducive to a cooking blog.
The trio and I have been going on outings on Tuesdays and Thursdays to enjoy summer.  Last Tuesday, we headed to Bloomington to go to Chuck E. Cheese with the Kilmartin's — but before we headed out I whipped together these bananas foster muffins for breakfast with overripe bananas that were calling me from my countertop.  I'm always looking for new ways to use up old bananas…
These muffins were a hit with the trio — they all loved them.  The flavor is perfectly bananas foster.  Delicious!  These were great for breakfast but would also make a fantastic dessert served with ice cream and real bananas foster!

Bananas Foster Muffins
Prep time:
Cook time:
Total time:
Ingredients
1 ½ cups mashed, very ripe bananas (I used 4)
½ cup brown sugar
1½ sticks unsalted butter, divided
3 Tbsp dark rum
¼ cup white sugar
1 large egg
1 tsp. vanilla
1 tsp. cinnamon
1½ cups all-purpose flour
1 ½ tsp. baking soda
1 tsp. salt
Instructions
Preheat oven to 350. In a small saucepan, melt a stick of the butter. Add the bananas and brown sugar and caramelize. Remove from heat and add the cinnamon and vanilla. Allow to cool slightly.
In a mixer, combine the remaining butter and white sugar. Add the egg and mix well. Add the cooled banana mixture, baking soda, and salt. Mix in the flour until just combined.
Spray 12 muffin liners with PAM and fill ⅔rds full. Bake for 18-20 minutes.