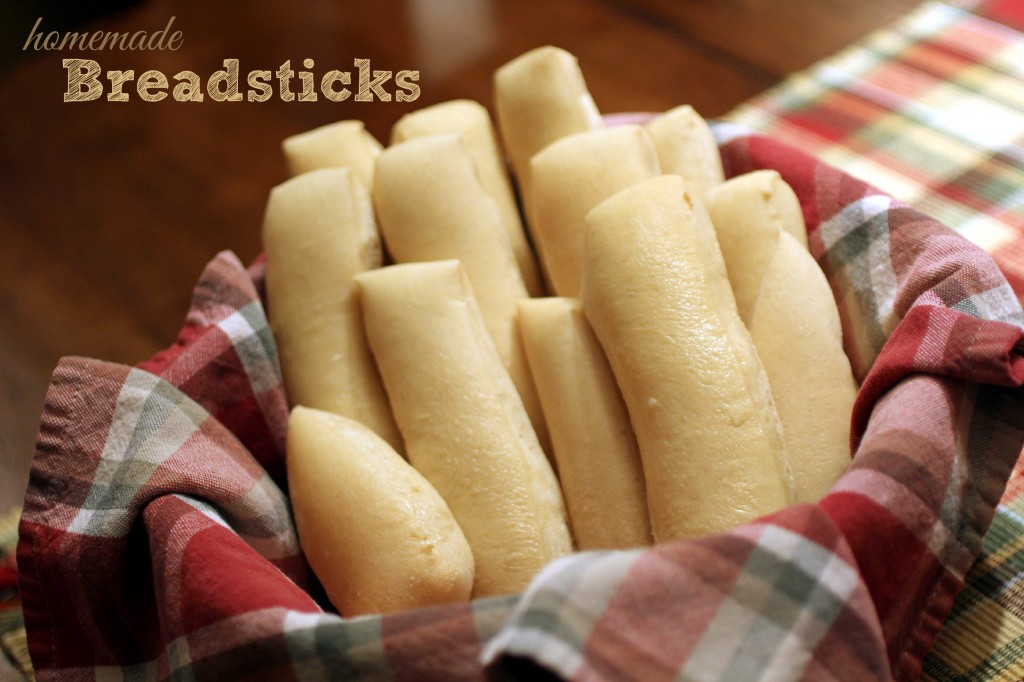 Dislocated Olneans — this post is for you.  Growing up in Olney, Illinois, one of my most favorite places to eat is Joe's Pizza.  The number of memories I have of eating Joe's Pizza is a bit ridiculous — extra cheese, extra sauce pizza on Jenna's 16th Birthday, countless orders of breadsticks with Mandy, and Sunday night pizza night at home. Joe's Pizza is an Olney staple and one of the places that requires a visit each time I return to my hometown.
Now that I live in North-Central Illinois, I'm still shocked that the pizza places here don't have breadsticks.  The "thing" in the Illinois Valley is garlic nuggets — which are okay — but I still crave and miss the traditional breadsticks from Joe's.  Amazingly, I've figured out how to make them at home — and they are delicious.  Easy to make and oh, so good.  Now if I can just figure out Joe's pizza sauce…
These breadsticks are great served with pizza sauce and cheddar cheese sauce (mixed together — it sounds odd, but trust me) for dipping.
I made these breadsticks twice this week.  The kids had friends over on Tuesday so I made a batch to have with our spaghetti dinner — and then I made them again last night — just to be able to eat more of them!  So much for that low-carb diet…  Last night, Bo came into the kitchen when they were almost done baking and exclaimed, "What is that amazing smell!?!"  (Yes, he's 6…) These breadsticks were a huge hit with the trio.

Homemade Breadsticks
Prep time:
Cook time:
Total time:
Ingredients
1 cup warm water
¼ cup canola oil
3 cups white flour
1 tsp. salt
3 Tbsp. brown sugar
2½ tsp. dry active yeast
Instructions
Using a bread machine, combine all ingredients in the order listed. Turn the machine on the dough cycle setting. When the dough cycle is complete, roll out the dough and cut into 20ish slices and place on baking sheets lined with parchment. Let rise for at least an hour (I let mine rise for nearly 2 hours as it was pretty chilly in my kitchen).
Bake at 375 degrees for 10-13 minutes until just beginning to brown. They are great plain or you can brush with a bit of butter for some extra flavor. Serve with pizza sauce and cheese sauce for dipping.
*If you don't have a bread machine, I think you could use the dough hook on a mixer to make the dough -- just make sure you let the dough rise twice -- once before cutting into breadsticks and again after*