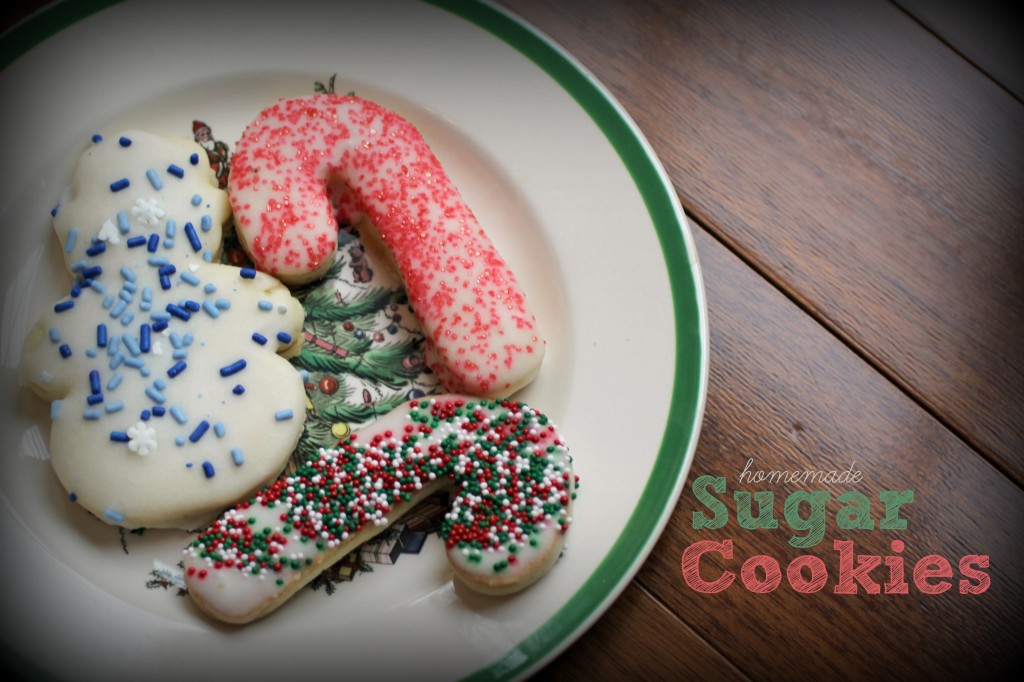 While we were all home for Christmas break, we made sugar cookies with the trio.  Of course, decorating them was completely messy, but it's become a Christmas tradition at our house.  This cookie recipe is my favorite because the dough doesn't have to be chilled, it's easy to work with, and the taste is delicious (the secret ingredient is the almond extract!).  These are perfect for any type of cutout cookies — they don't have to only be made at Christmas.
I made yellow, blue, green, red, and white icing (just add food coloring) and the trio had a lot of fun decorating them.  I had several different types of sprinkles, squeeze bottles, and bowls of icing that they shared.  Santa was left three of their masterpieces and there were two carrots for the reindeer.

Homemade Sugar Cookies
Prep time:
Cook time:
Total time:
Ingredients
1 cup butter, softened
1 cup white sugar
1 tsp vanilla extract
½ tsp almond extract
1 egg
2 tsp baking powder
3 cups flour
Instructions
Preheat oven to 350. Using a stand mixer, cream the butter and sugar. Add extracts and eggs. Add the baking powder and then add the flour a bit at a time. The dough does not need to be chilled. Divide into several batches and roll onto a floured surface to cut. They should be ⅛ to ¼th of an inch thick. Place on cookie sheets lined with parchment paper and bake for 6 to 8 minutes.
Decorate however you choose -- the trio used royal icing and sprinkles.