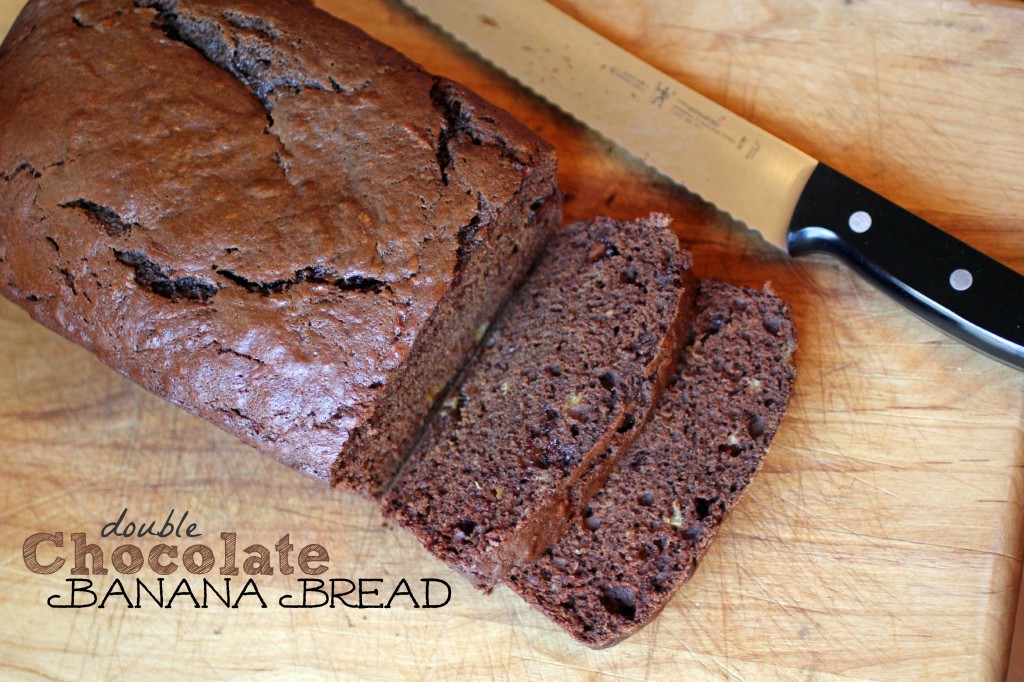 I might have to rename this site, "Jamie Makes Banana Bread."  I've been making other recipes lately — this weekend I made Cinnamon Sugar Pecans that I thought I'd share with you — unfortunately, they don't believe in photographs.  They tasted pretty awesome though…  Just so you know, I don't only make banana bread…   but as I've said before, it is a weekly event, so when I'm in need of a recipe to make the blog look like someone cares about it, I just change it up a bit. 😉
This double chocolate banana bread turned out amazing.  We had it for dessert as part of a delicious Sunday dinner.  Even though it was only in the low 30s, Mike and the kids spent a few hours outside yesterday afternoon working in the yard and running around.  We are so desperate for Spring!  After they came in we had hamburgers on the grill (Bo ate nearly two!), coleslaw, baked beans, and baked French fries — followed up by generous pieces of this banana bread (Bo also ate two — he must be growing…).  Of course the trio loved this — it was banana bread — plus it had chocolate chips.  I couldn't really go wrong.
As with all banana bread, this was quick and easy to throw together.  The chocolate make it rich and dessert worthy.  Definitely a new keeper to add to our banana bread rotation.

Double Chocolate Banana Bread
Prep time:
Cook time:
Total time:
Ingredients
1 cup sugar
2 eggs
⅓ cup oil (Canola, Coconut, whatever you like)
3 overripe bananas
1 tsp vanilla extract
½ tsp salt
1 tsp baking soda
½ cup cocoa powder
1½ cups flour
1 cup semi-sweet chocolate chips
Instructions
Preheat oven to 350 and spray a loaf pan with non-stick cooking spray. In the bowl of your mixer, combine the sugar and the eggs. Add the oil and bananas until the bananas are well mashed and combined. Add the vanilla, salt, baking soda, and cocoa powder. Add the flour and mix until just combined. Fold in the chocolate chips. Pour the batter into the prepared pan and bake for 1 hour.