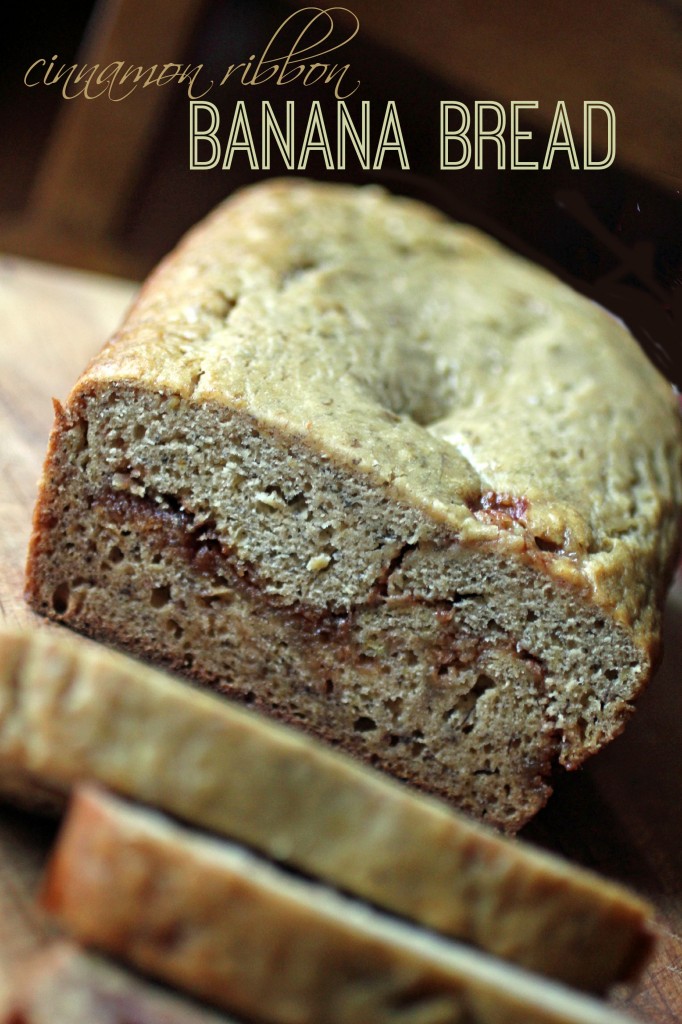 At our house, banana bread is nearly a weekly occurrence.  The trio loves it.  It's easy.  And we seem to always have ripe bananas ready for mashing on our counter.  I abide by the philosophy that one can never have too many bananas…
Since I make banana bread so often, I'm also often looking for ways to change it up a bit and this banana bread has a delightful cinnamon ribbon in the middle that gives it just a bit of crunch and extra cinnamony goodness.  This recipe makes two loaves, but it could easily be halved to only make one.
The trio and I had it for dessert last night and again this morning for breakfast.  It was a huge hit — and they appreciated the cinnamon ribbon.  Anna thought it tasted like a cookie.  Bo exclaimed that it was the best banana bread ever — but he often says that.  And Clara licked the plate, which I took as a compliment instead of poor manners.

Cinnamon Ribbon Banana Bread
Prep time:
Cook time:
Total time:
Ingredients
4 cups flour
1½ tsp. baking soda
1 tsp. salt
2 tsp. cinnamon
1 cup light brown sugar
1 stick butter, unsalted, softened
4 large eggs
2 tsp. vanilla
6 small/medium sized overripe bananas
½ cup yogurt
½ cup sugar
2 tsp. cinnamon
Instructions
Preheat oven to 350. Prepare two loaf pans by spraying with Baking PAM and place them on a cookie sheet. In a large bowl, combine the flour, baking soda, salt, and cinnamon. Set aside. In a stand mixer, combine the butter and brown sugar and mix well. Add the eggs, one at a time and then add the bananas. Mix until the bananas are no longer lumpy. Add the yogurt (you can use any kind you have on hand -- I actually used strawberry with chunks that the kids don't like, but by the time it was baked you couldn't tell there was strawberry yogurt in it). Add the flour mixture until the batter is just combined. In your prepared loaf pans, spread ¼ of the batter into each. In a small bowl, combine the sugar and cinnamon. Sprinkle ½ of the sugar/cinnamon mixture over each half loaf. Spread ¼ of the remaining batter on top of each of the loaves. Bake for 50-55 minutes or until golden brown and mostly set.