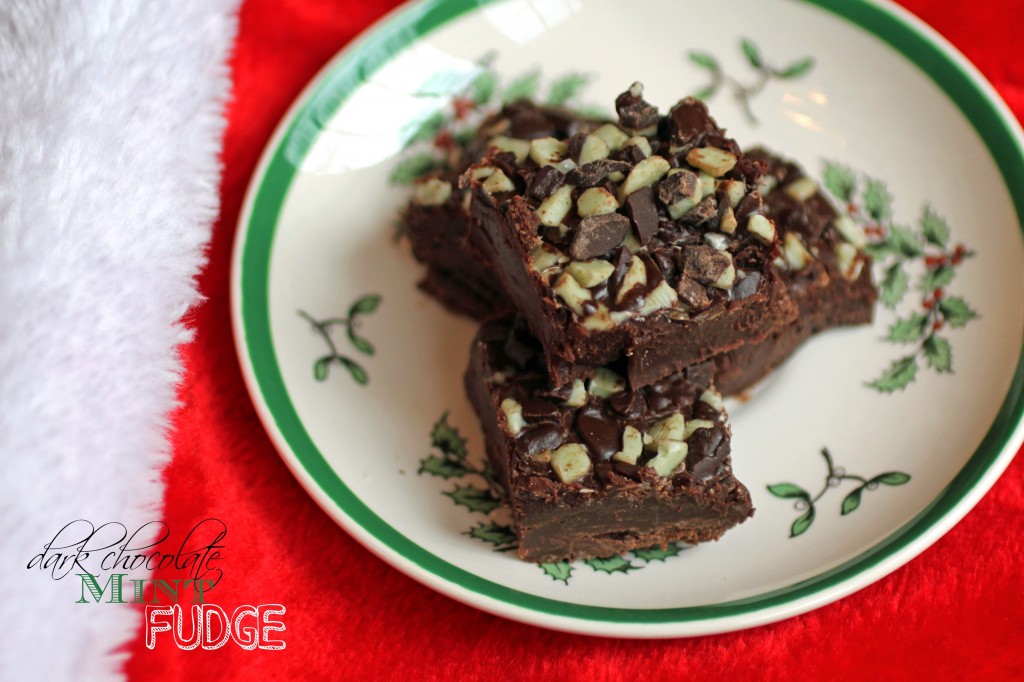 I wasn't planning to post again before Christmas but I made this dark chocolate mint fudge on Friday evening and it's too sinful not to share.  This fudge is very simple to make and tastes decadent and indulgent.  If you're looking for a last minute gift or just something to enjoy with your family, this is perfect.
Mike and I have been enjoying our time off with the kids.  We've built forts and Lego creations, cuddled on the couch while watching Polar Express, and cooked plenty of yummy food.  Today, we're going to the movies to see Frozen.  The countdown to Santa is in full swing and we're enjoying every minute. I hope you're enjoying the season as well.
I love the combination of chocolate and mint — but during the holidays it seems to taste even better.

Dark Chocolate Mint Fudge
Prep time:
Cook time:
Total time:
Ingredients
3 - 10 oz. bags dark chocolate chips
1 - 10 oz. bag Andes mint baking chips
1 Tbsp. butter
1 can sweetened condensed milk
½ to 1 cup heavy whipping cream
¼ tsp. peppermint extract
⅛ tsp. vanilla extract
¼ tsp. salt
Instructions
Spray a 9 x 13 inch pan with cooking spray or line with foil. In a large saucepan, heat the butter over low heat. Once the butter has melted, add the sweetened condensed milk, dark chocolate chips, and 1 cup of the Andes chips. Stir constantly until the chocolate has melted. Add the heavy cream ⅛th of a cup at a time and continue stirring until the chocolate no longer looks granulated and appears more glossy. It should look like thick, glossy, chocolate cake batter. You do not want it to be too thin. Remove from heat and add the salt and extracts. Pour the hot mixture into the prepared 9x13 pan and smooth. Top with remaining Andes chips. Refrigerate for several hours until set.