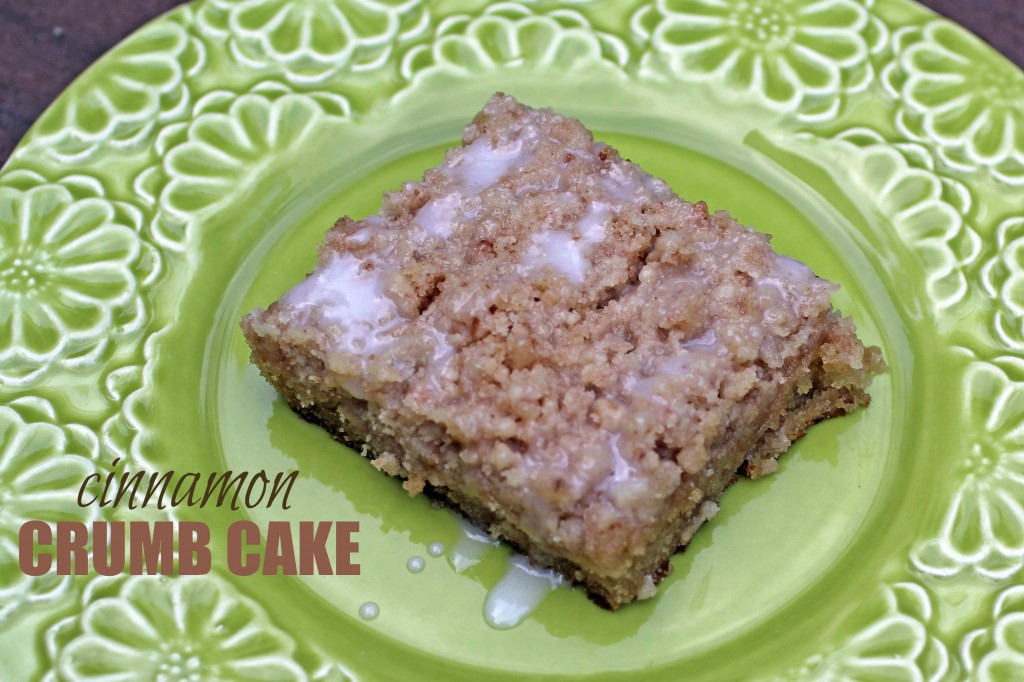 School is officially in full-swing and that means my schedule of weekly breakfast dates with a few of my favorite people is also revamping.  Laura and I are meeting up on Wednesday mornings for breakfast and conversation before I work and she heads to the library with her youngest, Cara, who isn't in school yet.
After talking about it for weeks, I finally made this delicious cinnamon crumb cake this week for our breakfast.  Bo and I were both up at 6 and he helped me make it.  My first attempt I was still asleep and used powdered sugar instead of flour — needless to say by the time it was ready for the oven I realized something wasn't quite right!  We started over and still had delicious crumb cake for the trio to eat for breakfast and then to share with Laura and Cara after school drop-off.  And yes, I finally bought labels for my pantry staples this week — nothing like a complete disaster to finally motivate that purchase!
This cinnamon crumb cake is very easy to pull together — even for a weekday morning breakfast.  It tastes amazing — and extra special!  It's perfect with coffee.  Or Coca-Cola if you ask Laura. 😉
This recipe received rave reviews from all who tried it!  Five Wooden Spoons for this one!

Cinnamon Crumb Cake
Prep time:
Cook time:
Total time:
Ingredients
Batter Base and Topping:
1 cup canola oil
1 cup brown sugar
½ cup white sugar
2½ cups flour
1 tsp salt
Additions to the Batter Base after removing one cup for the topping:
1 cup buttermilk (or 1 cup milk plus 1 Tbsp. white vinegar)
1 egg
1 tsp. baking soda
1 tsp cinnamon
1 tsp nutmeg
Additions to the topping:
1 tsp. cinnamon
2 Tbsp. Flour
2 Tbsp. Sugar
Glaze:
½ cup powdered sugar
1 Tbsp. milk
Instructions
Preheat oven to 350. Spray a 9 x 13 inch pan with PAM baking spray. In a large bowl, combine oil, brown sugar, sugar, flour, and salt. Mix well. Remove one cup of mixture into another smaller bowl before adding buttermilk, egg, baking soda, cinnamon, and nutmeg. Pour this mixture into the prepared pan.
Add cinnamon, flour, and sugar to the remaining mixture and combine until crumbly. If necessary, add more flour and sugar until it reaches the desired consistency. Sprinkle the crumbs on top of the batter.
Bake for 25-30 minutes.
While baking, combine powdered sugar and milk. Drizzle with glaze after the cake is removed from the oven.