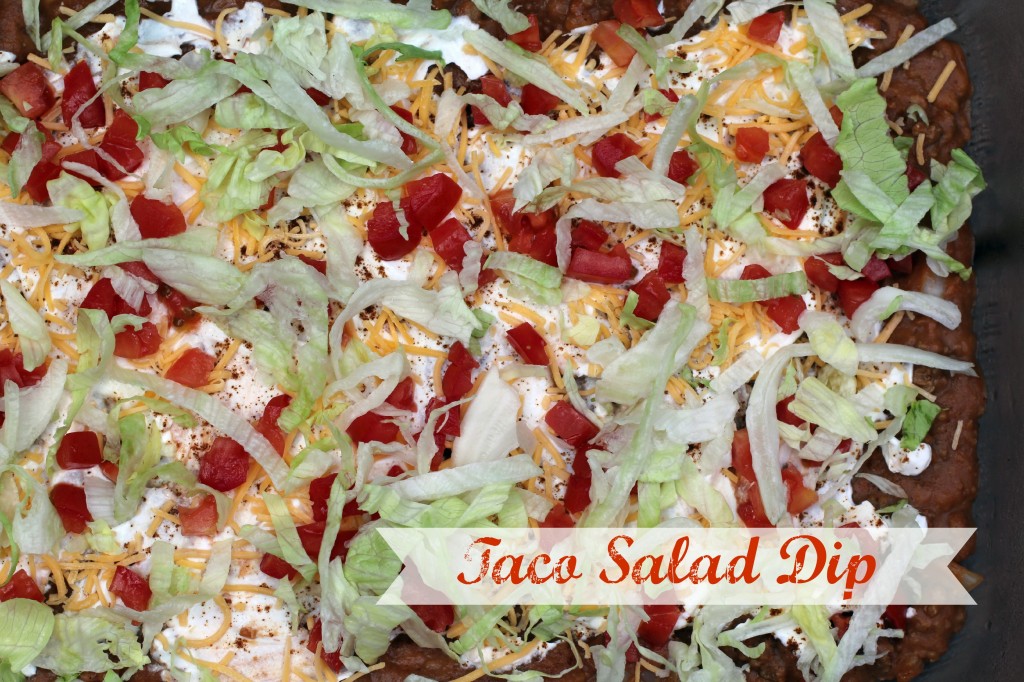 Happy 4th of July! (And Happy Birthday to me…) Are you looking for a recipe to take with you to a pool party or pre-firework's bash?  This one is a great pick!  And super easy!
Last week, Mike was motivated to make this yummy taco salad dip.  Life has been a bit chaotic – we had a large garage sale and all of the setup and house cleanup that comes with it – combined with three small children and a full-time job (plus a few side jobs) mean that I haven't had much time in the kitchen recently.
On Saturday, while I was outside working the garage sale, Mike took the kids to the grocery store and bought the ingredients for this dip which he made on Sunday.  It's tasty!  We ended up eating it for dinner but it would be a great dish to bring for a picnic or potluck — or even just to serve as an appetizer.
I took the leftovers in a small container on a picnic with the trio on Tuesday.  The kids wouldn't touch the stuff — but that just meant more for me!
Kudos to Mike for this yummy dip.  And from rescuing us from another meal of foraging through the pantry. 🙂

Taco Salad Dip
Prep time:
Cook time:
Total time:
Ingredients
½ lb. hamburger, browned
1 - 15 oz can refried beans
8 oz tomato paste
1 package taco seasoning
¼ cup chopped white onion
2-3 drops tabasco sauce
½ tsp. garlic salt
½ cup sour cream
¼ tsp. chili powder
1 cup shredded Mexican blend cheese
1-2 cups shredded lettuce
1 small tomato, diced
Instructions
Brown hamburger and drain. Add refried beans, tomato sauce, taco seasoning, chopped onion, tabasco, and garlic sauce. Simmer until heated through and bubbly. Spread into a 9x13 pan. In a small bowl combine the sour cream and chili powder. Spread over the meat mixture. Top with cheese, lettuce, and diced tomato. Good served hot or cold with tortilla chips or corn chips.