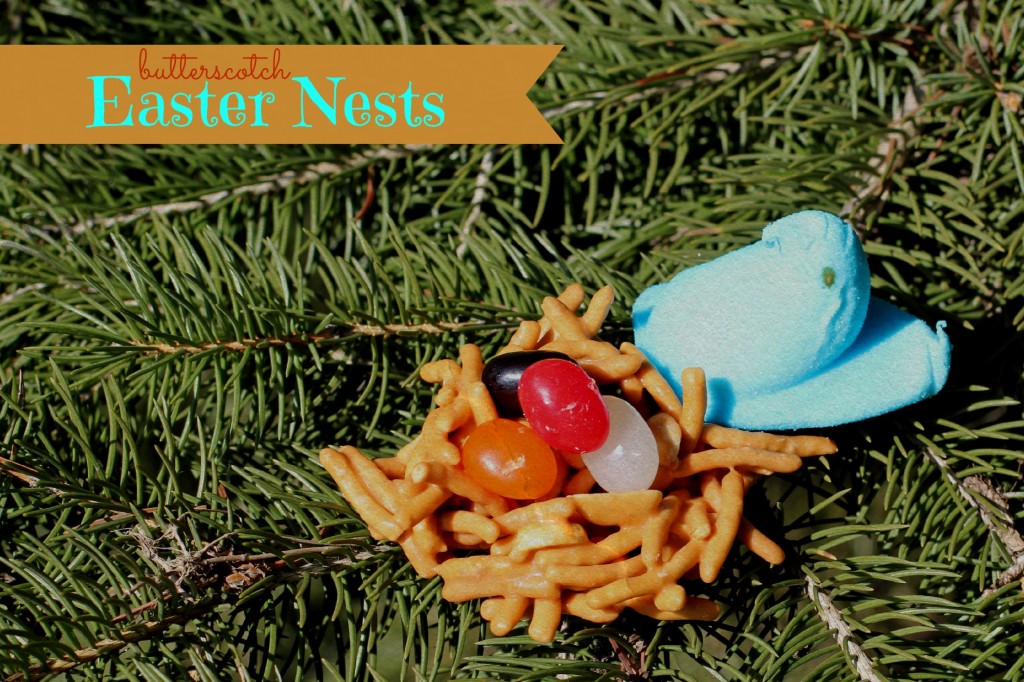 Well, our Easter didn't turn out exactly as we'd planned.  Both Clara and Anna are sick — it's a strange illness — 100-102 fevers in the morning and evening — seemingly fine most of the day.  Not really eating.  Coughing.  Hacking.  Blah.  They were supposed to be Baptized this weekend and now we are working to reschedule it.  Best laid plans…
But that didn't stop us from having fun in the kitchen to celebrate Easter.  One of our projects were these Butterscotch Easter Nests.  I made my mom's haystacks and added jelly beans and Peeps.  All three kids thought they were neat to eat.  However, Bo was mad I put peanuts in the nests — and Anna and Clara wouldn't eat the nests at all.  However, they did eat the Peeps and jelly beans.
The nests are very quick and easy to make — perfect for a cooking activity with preschoolers.

Butterscotch Easter Nests
Prep time:
Cook time:
Total time:
Ingredients
1 - 12 oz. bag butterscotch chips
1 - 16 oz. bag chow mien noodles
1 cup peanuts
milk (if needed)
Instructions
In a large microwave safe bowl, melt the butterscotch chips. I typically melt for about 30 seconds and then stir to judge consistency. Depending on the type of chip you have, you may need to thin them a bit with milk. Add milk, a tablespoon at a time, until chocolate is a pourable consistency. Add in the chow mien noodles and peanuts and stir well until everything is coated with the butterscotch mixture. Scoop onto waxed paper and form into nest shapes. Add jelly beans. Nests will need to set for several hours to harden.