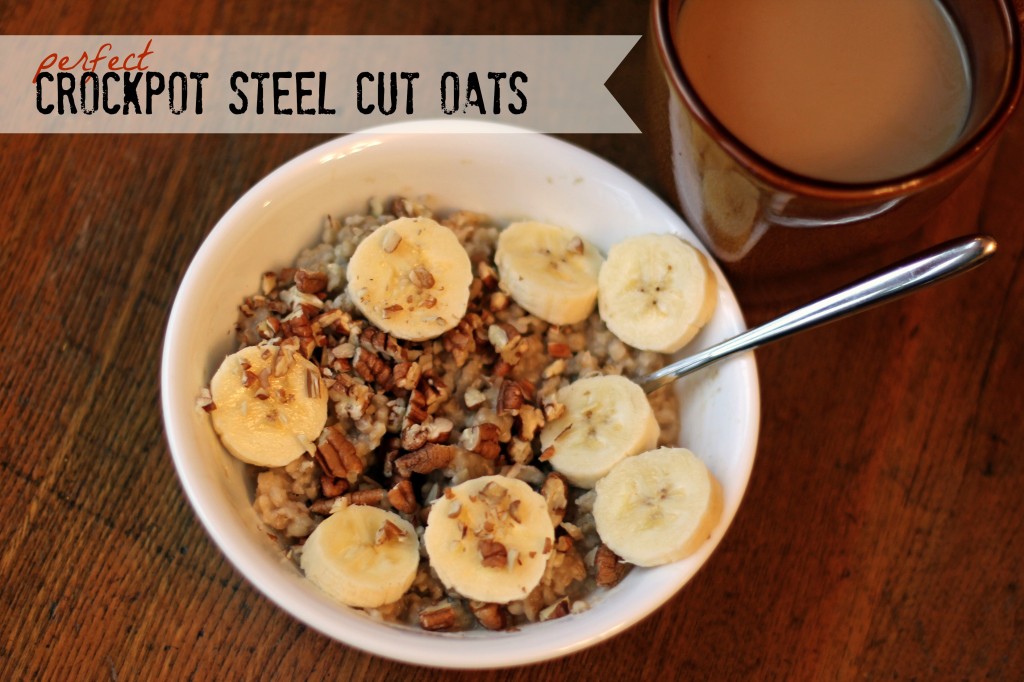 I've always loved oatmeal, but for the past several years I haven't eaten it often — mostly because I simply didn't have the time in the mornings to babysit a pan of oats on the stove to make sure they reached the right consistency.  My mornings are filled with attempting to feed, dress, and contain my trio so that they end up at school on time.  In text, this seems like a simple task, but in reality, it made dealing with a pot of oatmeal for 30 minutes in the morning nearly impossible.
Recently, I discovered the perfect crockpot steel cut oatmeal recipe.  It is divine!  I've eaten it nearly every day for the last two weeks and it is perfect for my busy mornings!  I make a batch on Sunday evening and then I have breakfast ready for four days that week.  I make the batch plain and add my toppings based on my mood. To the oatmeal above, I added half of a sliced banana, a teaspoon of brown sugar, and 10 pecan halves chopped.  Amazing.  Seriously.  It's the texture and creaminess of the oatmeal that makes it so delicious!
The recipe below makes 4 servings, but can easily be doubled or tripled if more people in your family eat oats.  I store them in a Tupperware container and scoop out what I would like into a bowl and microwave for about a minute and 15 seconds before adding my sweetener and toppings.  Some topping ideas besides the banana/pecan mixture include mini chocolate chips/chopped almonds/sugar, chopped apple/crunchy peanut butter/honey, and this mornings creation – raisins/brown sugar/vanilla extract – tasted like an oatmeal cookie!

Crockpot Steel Cut Oatmeal
Prep time:
Cook time:
Total time:
Ingredients
1 cup steel cut oatmeal
3 cups water
½ tsp. salt
desired toppings/sweetener
Instructions
In a small crockpot, combine the steel cut oats, water, and salt. Stir. Cook on low for approximately 4 hours, on high for approximately 2 hours until desired consistency. Transfer to a Tupperware container and store in the fridge for up to 6 days. Dish out and microwave in the morning - topping with your desired ingredients.