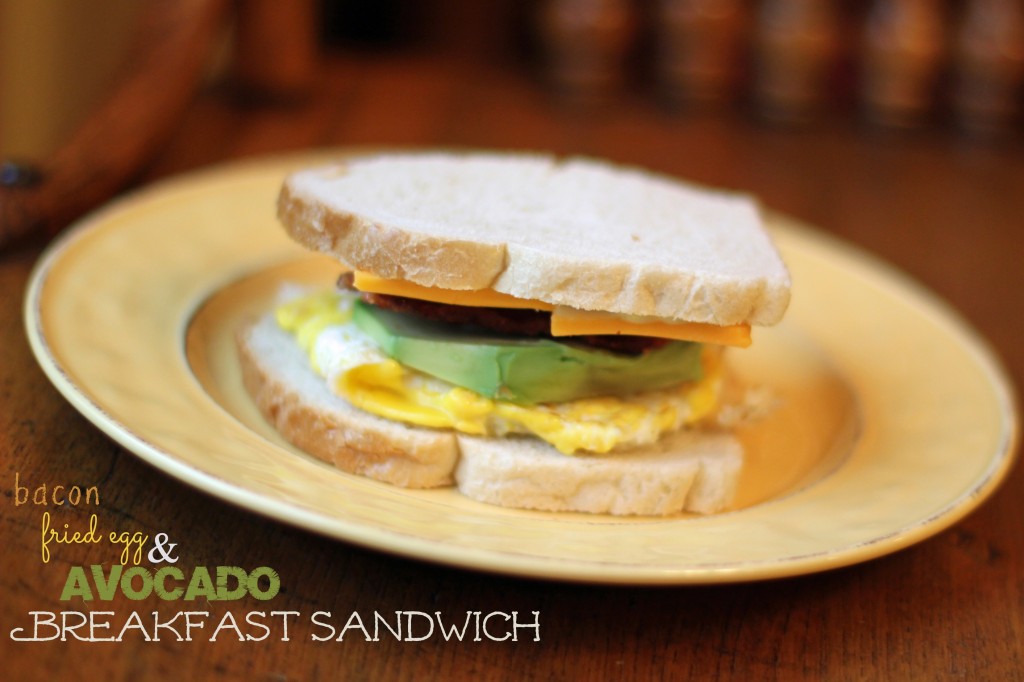 On Sunday morning, I awoke to the smell of bacon.  Mike was making these tasty, bacon, fried egg, and avocado breakfast sandwiches.  I emerged from our room just in time, as the kids were begging for pancakes.  While I made pancakes for the trio, Mike made these for us, and they were quite tasty.  I love avocado and bacon in all forms.
Overall, the sandwich itself is pretty basic – but the avocado/Miracle Whip mixture is the perfect, creamy, condiment for this breakfast sandwich – with just a hint of kick.  Mike rarely makes dinner (except for guac) but at least one weekend morning, I am promised some type of breakfast concoction. I'll definitely be requesting these sandwiches again in the future.
These sandwiches were inspired by Better Homes and Gardens Special Interest Publications HomeMade 115 Recipes for Home-Cooked Comfort.

Bacon, Fried Egg, & Avocado Breakfast Sandwich
Prep time:
Cook time:
Total time:
Ingredients
1 large avocado
2 Tbsp. light Miracle Whip
1 tsp. lemon juice
1 tsp. minced garlic
1 tsp. chili powder
2 eggs
pepper
2 slices of hearty bread (we used country white)
2 slices of cheddar cheese
2 slices crispy bacon
Instructions
Mash half of the avocado in a small bowl. Stir in Miracle Whip, lemon juice, garlic, and chili powder. Slice the remaining avocado and set aside. Spray a skillet with olive oil spray and break eggs into the skillet. Sprinkle with pepper and cook for 4-5 minutes until the yolks are the desired doneness. Cut the bread in half (or use 4 slices - our bread was long) and layer our breakfast sandwich. Bread - cheese - avocado slices - bacon - fried egg. Spread the other half of the bread with the sauce mixture and place on top. Enjoy!