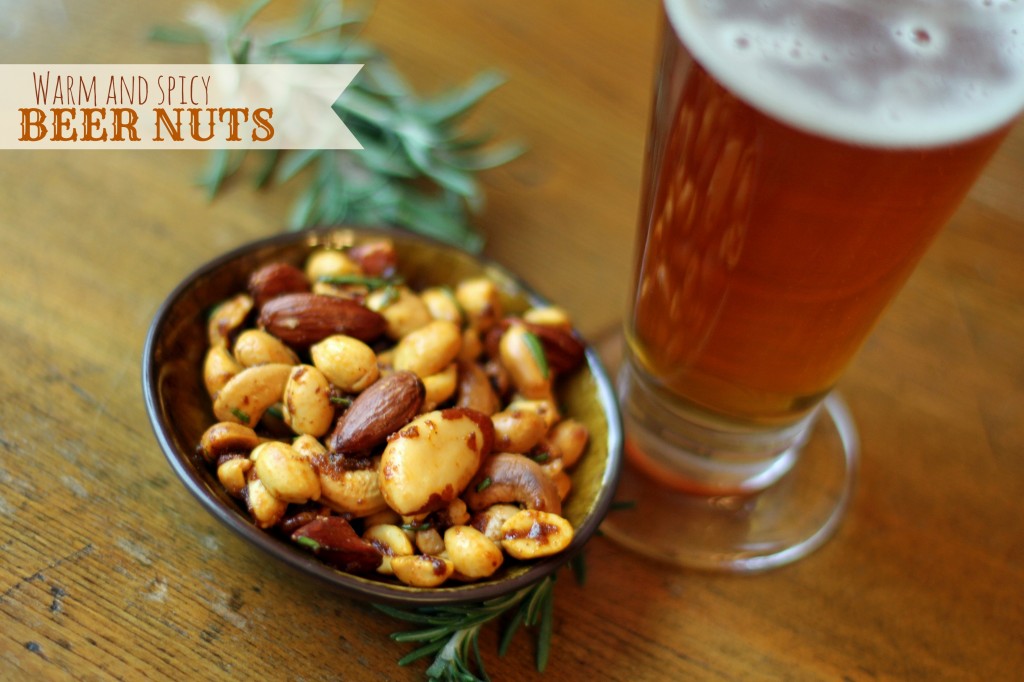 On Saturday morning, Mike left early for work and Bo was awake nearly seconds later.  Since the girls were still asleep, Bo and I curled up on the couch together and indulged in a bit of Food Network.  He loves to watch the cooking shows with me and is an avid Pioneer Woman fan. 🙂
The show that we watched was about snack foods and they were talking about bar nuts from a bar in New York City.  Those nuts were the inspiration for these delicious beer nuts that I plan to make again for the Superbowl and for Mike's upcoming Poker Night.  They are the perfect mixture of spice and the salty nuts make beer go down so much easier.
Until this year, I've never been a beer drinker, but I've started to come around and drink a Miller 64 occasionally, mostly to avoid the calories in hard alcohol.  However, it's only good with something salty – chips, crackers, or nuts preferably.

Beer Nuts
Prep time:
Cook time:
Total time:
Ingredients
1 can salted mixed nuts
1 Tbsp butter, melted
½ tsp cayenne pepper
1 Tbsp brown sugar
2 Tbsp chopped fresh rosemary
Instructions
Preheat oven to 350. Spread nuts in an even layer on baking sheet and bake for 10 minutes. Meanwhile, melt the butter and in medium sized bowl, combine the butter, cayenne, brown sugar, and rosemary. Immediately when removing nuts from the oven, scoop into the bowl with the butter ingredients and stir well to toss and distribute the butter mixture evenly. Serve immediately with a cold beverage of your choice.