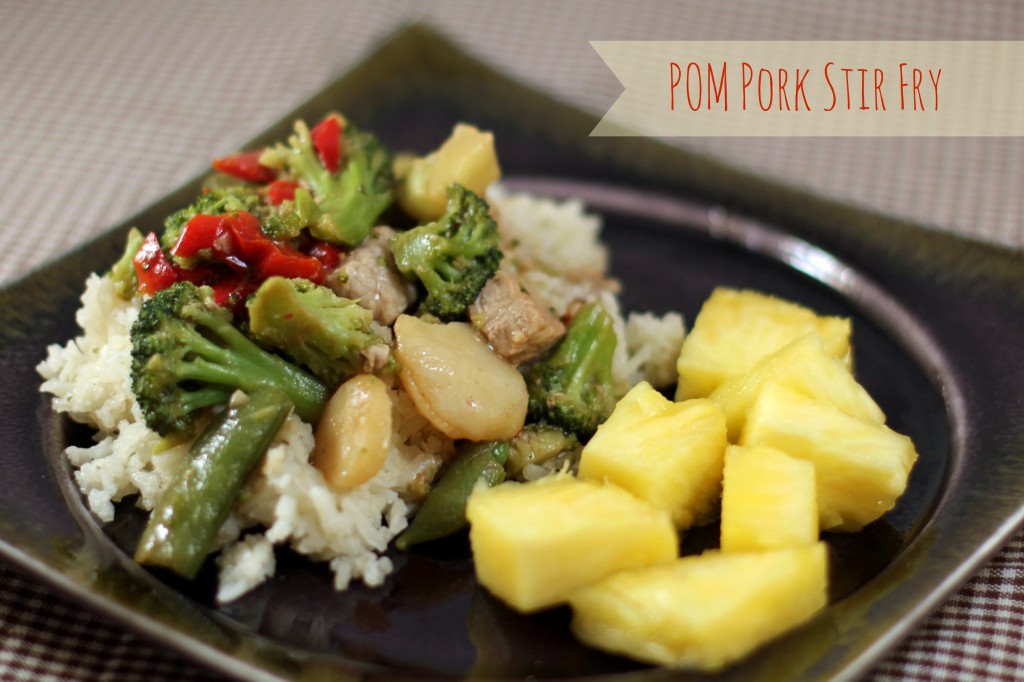 Last week, I thawed a few pork chops and instead of our regular BBQ chops, I decided to mix it up a bit and make stir fry. I started with four pork chops and marinated them for several hours in a large bowl filled with POM juice and a teaspoon of onion powder and garlic powder.
When it was time to make dinner, I threw the rice in the rice cooker (my splurge when I found out I received my new job) and cubed the pork.  I added a bag of stir fry veggies and then topped it with the sauce outlined below.  It all came together very quickly and was quite tasty.  Definitely a recipe I'll be making again.

POM Pork Stir Fry
Prep time:
Cook time:
Total time:
Ingredients
4 lean pork chops
1 bottle POM juice
1 tsp onion powder
1 tsp garlic powder
2 Tbsp olive oil
2 Tbsp soy sauce
1 Tbsp cornstarch
2 Tbsp rice vinegar
1 tsp sesame oil
1 tsp minced garlic
3 Tbsp POM juice
1 - 16 oz bag frozen stir fry vegetables
rice, prepared
Instructions
-5 hours before cooking (or overnight), place the pork chops in a large bowl or Ziplock back and cover with POM juice, onion powder, and garlic powder. Be sure to reserve at least 3 Tbsp. of the POM juice for the sauce. Return the pork to the fridge.
To prepare, remove the pork from the marinade and cube. Heat 2 Tbsp. olive oil over medium heat and sear the pork. When the pork is seared, add the frozen vegetables. While the vegetables and pork are cooking, prepare the sauce. In a small bowl combine soy sauce, cornstarch, rice vinegar, sesame oil, minced garlic, and POM juice. When your meat is cooked through and the vegetables are almost at your desired consistency pour the sauce over the top and allow to thicken slightly. Serve over rice.
The trio isn't a big fan of stir fry, so served their meal components separately — I picked out pieces of pork, which they all liked. And they ate the rice plain.  Anna is my only veggie eater, and she enjoyed the broccoli as well.