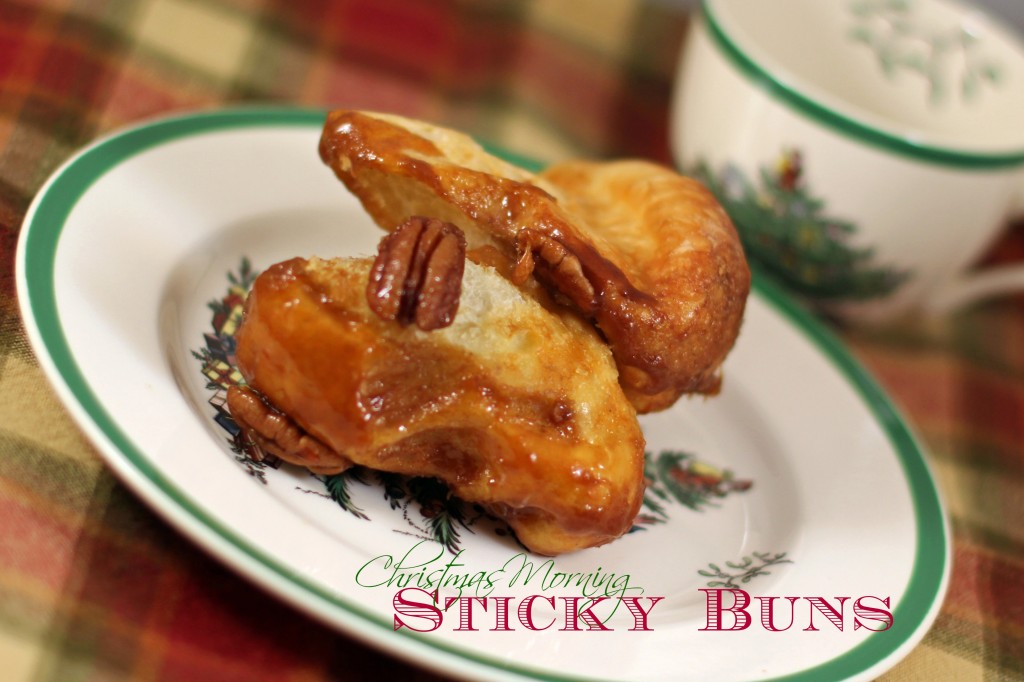 For years, these sticky buns have been our Christmas morning breakfast. My mom started making them on Christmas morning when I was in high school and it became a tradition.  The best part about these rolls is there is relatively little prep work so they are quick and easy to throw to together before bed on Christmas Eve after an exhausting evening playing Santa.
On Christmas morning, just heat up the oven and bake for 30 minutes.  By the time we finished our stockings and Santa gifts, the rolls were ready to enjoy for an effortless Christmas breakfast that still tastes special.  I bet they'd be a great New Year's Day breakfast too…

Sticky Buns
Prep time:
Cook time:
Total time:
Ingredients
22 Rhodes dinner rolls, frozen
6 Tbsp. butter
½ cup brown sugar
1 tsp. cinnamon
1 small package Cook-n-Serve Butterscotch pudding mix
½ cup chopped or halved pecans (optional)
Instructions
Spray a bundt pan with PAM. If using pecans, distribute the nuts around the bottom of the pan and top with the frozen rolls. Sprinkle the pudding mix over the top. Meanwhile, melt the butter in a small saucepan. Add the brown sugar and cinnamon and cook until well combined. Pour the butter mixture over the top of the rolls. Leave rolls to rise overnight (or for at least 7 hours).
In the morning, preheat the oven to 350. Bake for 30 minutes. Flip bundt onto a serving dish and serve.
We only did half of the pan with nuts, as the trio isn't a big fan of them.  Anna and Clara each had two rolls but Bo didn't have any this year.  I think he was too excited about his new gifts!We had a lovely holiday!  I hope your family did too!