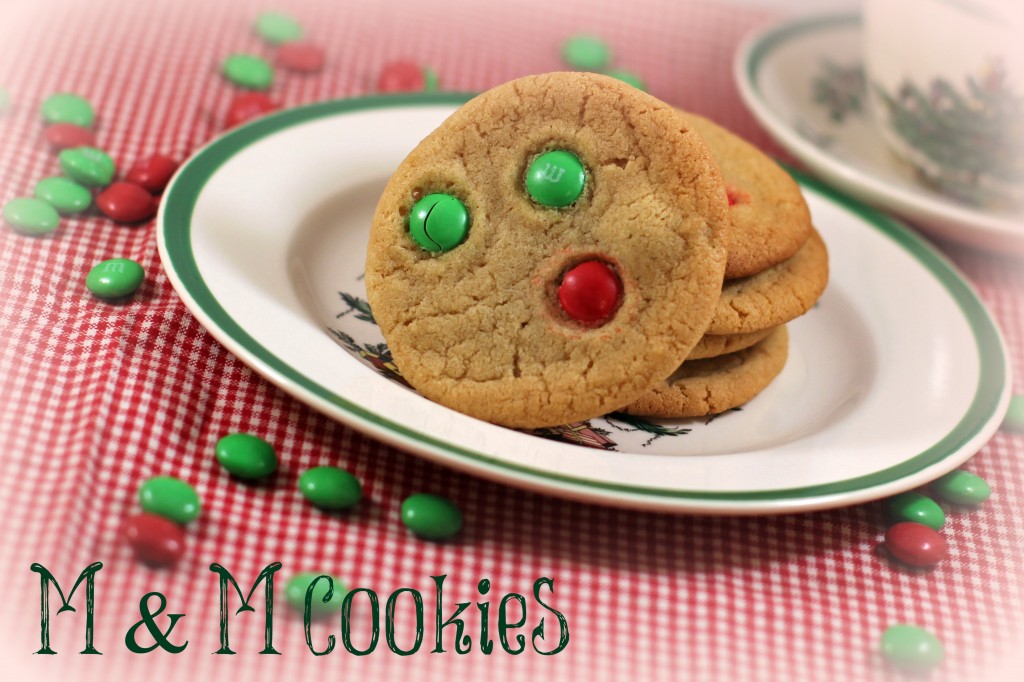 For me, it just isn't Christmas without lots of baking and goodies.  Growing up, my mom and Aunt Sally would both bake like crazy during the Holiday season and on Christmas Eve there would always be a table filled with all types of treats.  I've always loved baking and I love sampling everything even more.  One of my goals it to carry on the tradition of making holiday goodies with my trio — we've got lots of recipes on our list this year!
Aunt Sally passed away when I was in high school, but her memory lives on.  This year, I knew that I needed to make a batch of her M & M cookies — they were always one of my favorite Christmas treats — so I asked my mom about the recipe and she swore it was on the M&M package.  Of course, the package I had didn't have a recipe — so I Googled it and tried a batch, but they just weren't right.  Finally, I wised up and messaged my cousin Kelly and low and behold, she had the recipe.   They are perfect.  They taste just like they did when I was little. I couldn't be happier.
We made these yesterday afternoon and we all had a cookie (or four) after dinner.  Delish!

Aunt Sally's M & M Cookies
Ingredients
1 cup shortening
1 cup brown sugar firmly packed
½ cup granulated sugar
2 eggs
2 tsp vanilla
2¼ cups flour
1 tsp baking soda
1 tsp salt
1½ cups M&M's
Instructions
Preheat oven to 375 and line cookie sheets with parchment paper. In a stand mixer, cream shortnening, sugars, eggs, and vanilla thoroughly. Add dry ingredients gradually to creamed mixture, mixing well. Fold in ½ cup M&Ms, reserve remaining M&Ms for decorating. Drop by teaspoon (or melon baller) onto baking sheet. Decorate tops of cookies with remaining M&Ms - I do about 3 per cookie on top. Bake 10 to 12 mins or until golden brown. Makes 6 dozen 2½ in cookies.