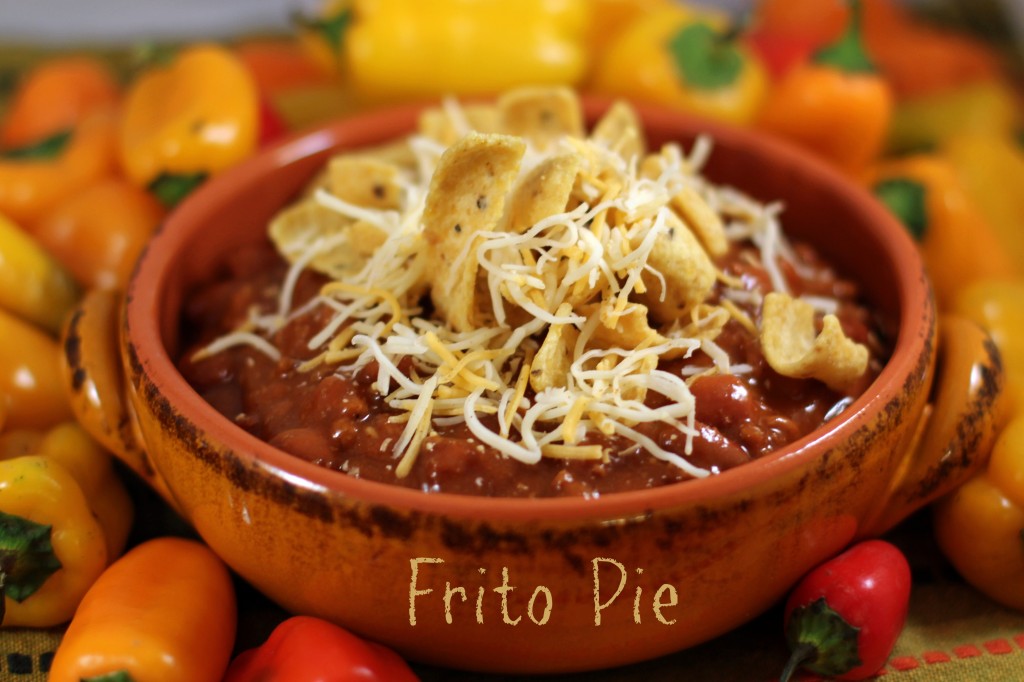 Considering we are in the midst of a nearly 70 degree day here in the Midwest (Happy December!) eating a warm bowl of chili doesn't sound as appealing as it did a few weeks ago when I made Frito Pie for Mike and his buddy, Derek, to enjoy while they watched the Bears game.  However, I'm not sure they took full advantage of the Frito Pie possibilities and probably just ate the chili plain…
Everyone can make chili and there are hundreds of different recipes for it. This chili recipe is my mom's and Mike commented, "It was good, but not as good as your mom's."  So even though I used her recipe, I must not have done it quite right.  Maybe she'll comment here with some insight…
What makes this recipe extra special is the extra ingredients that are added to the chili before serving to give it extra saltiness and creaminess.  Yum!  While you can definitely eat the chili plain, I highly suggest taking it up a notch to the Frito Pie level.  To upgrade, you'll layer Fritos, chili, cheddar cheese, sour cream, and finely chopped white onion in your bowl.  It's ridiculously easy but oh, so tasty!

Frito Pie
Prep time:
Cook time:
Total time:
Ingredients
24 oz. can tomato juice
3 15 oz. cans chili beans
1 pkg. chili seasoning of your choice
1 lb. hamburger, browned
1 onion, chopped -- ½ added to the hamburger and browned, other half reserved
1 Tbsp. sugar
Fritos
shredded cheddar cheese or Mexican blend cheese
sour cream
Instructions
Brown hamburger and ½ of the onion, drain fat. Add hamburger and onion mixture, tomato juice, chili beans, chili seasoning, and sugar to a large, heavy bottomed pot and bring to a boil for 10 minutes. Read heat and simmer for several hours.
To serve, layer Fritos, chili, cheese, sour cream, and remaining chopped onion in a bowl. Perfect for enjoying during Sunday football in the fall.