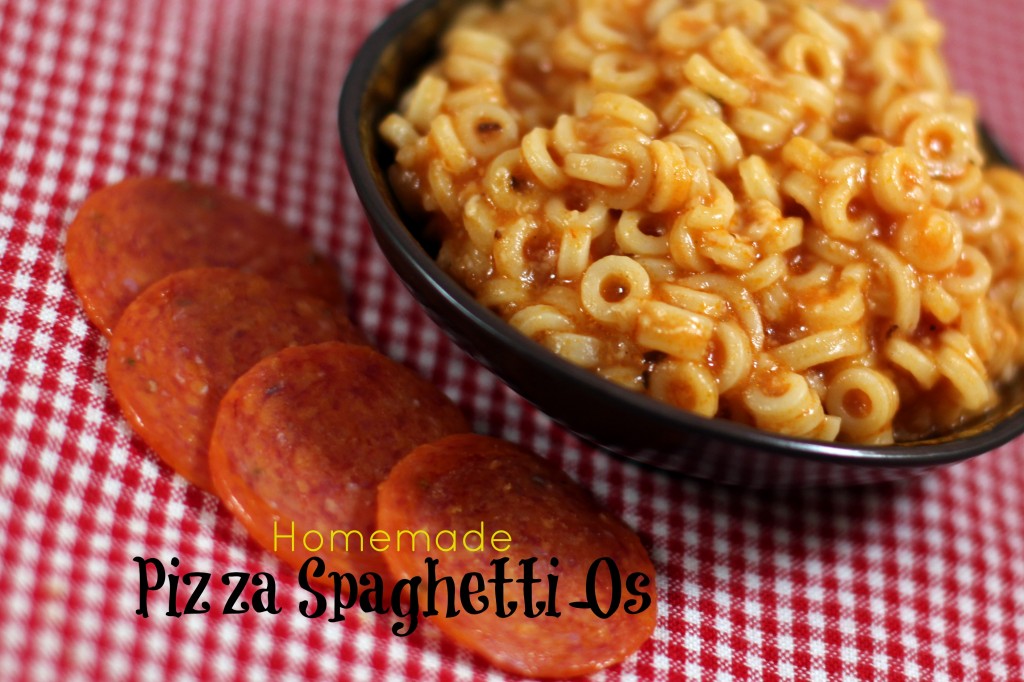 When Bo was a baby I swore that highly processed foods like Spaghetti-Os would never cross his lips.  Then, I became pregnant with twins and since Mike is a closet Spaghetti-Os and canned pasta eater, they ended up in our cabinet. Canned Spaghetti-Os is still one of those foods that I just can't force myself to feed them — so I save them for Daddy dinners or for the babysitter on date nights.  Of course, my kids love them.
When I ran across a pin on Pinterest for homemade Spaghetti-Os, I knew I had to make them for my kiddos.  Of course, I couldn't just leave the recipe alone and had to change it up a bit — and Pizza Spaghetti-Os were born.
Of course, Bo was smart enough to realize that these were not the same as their canned counterpart and at first refused to eat them.  However, once he took a bite, he thought they were yummy — even if they didn't taste quite like "real" Spaghetti-Os.   The girls gobbled them up – no problem.
The secret ingredient in these is the pepperoni flavored pizza sauce by Contadina.  We can't find it by us (there is three cheese and regular, but not the pepperoni) so we buy it in bulk when we visit Mike's parents. I served pepperoni on the side as I thought it might be a texture issue for my kids.  However, I think finely chopped pepperoni directly in the pasta would be a delicious addition.

Homemade Pizza Spaghetti-Os
Prep time:
Cook time:
Total time:
Ingredients
8 oz pasta rings
2 tsp. minced garlic
Pinch of crushed red pepper flakes
15 oz can Contadina brand Pepperoni flavored pizza sauce
1 cup water
1 Tbsp. tomato paste
½ tsp. salt
¼ tsp. pepper
½ tsp. granulated sugar
4 Tablespoons unsalted butter, cut into pieces
¼ cup skim milk
1 cup shredded pizza-blend cheese
Instructions
Cook the pasta according to the package directions. In a large saucepan, heat 2 Tbsp. of the butter over medium heat. Add the garlic and red pepper, then stir in the pizza sauce, water, tomato pasta, salt, pepper, sugar, and remaining butter. When the butter is completely melted and the sauce warm, stir in the milk. Simmer until the pasta is done.
Remove from heat and stir in the pizza cheese until melted. Drain the pasta and combine with approximately ¾ths of the sauce (any more and it will be soupy). Stir to combine. Add finely chopped pepperoni or serve with pepperoni on the side.
I made this for dinner on a week night last week and it was very quick and easy.  Not quite as easy as opening a can, but still not a lot of effort.  After my trio ate there were enough leftovers for another full meal.