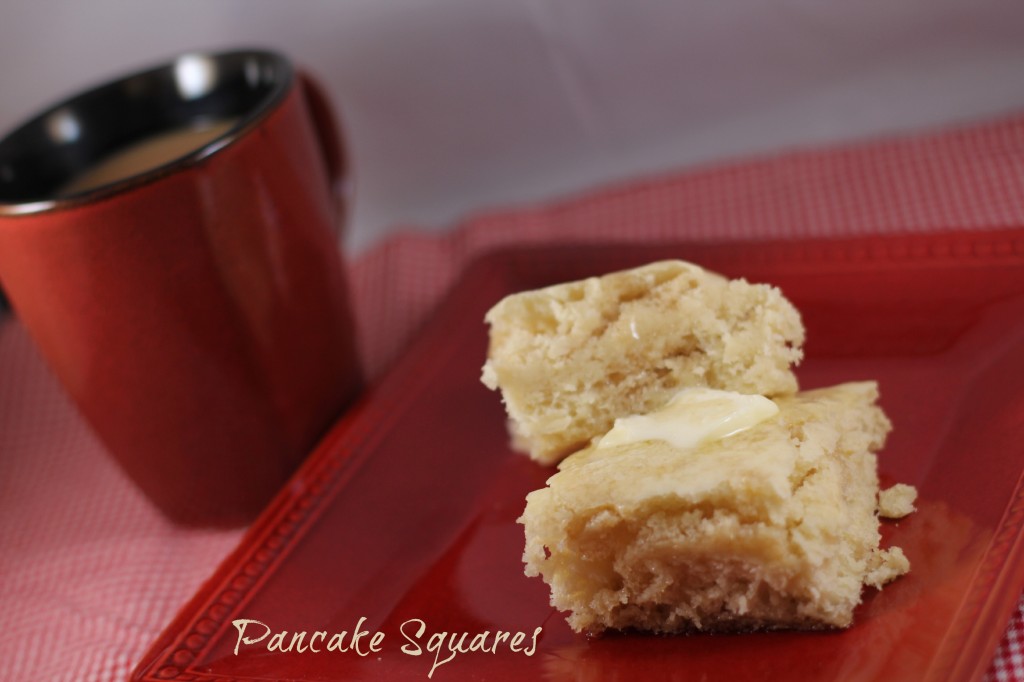 One of our new favorite breakfasts are these quick and easy pancake squares.  I originally found the idea on Pinterest and used the recipe from Big Red Kitchen.  After making them once, I quickly realized that I needed to make more to feed my growing kiddos (and if I wanted one for myself!) and adjusted the recipe with a few tweaks as well. Often, on school days, Bo would request pancakes and I'd try to steer him to something slightly less labor intensive.  It isn't that making traditional pancakes is difficult – it isn't – but it can be time consuming when trying to wrangle three kiddos out the door for school fully dressed and with well-packed lunches.  These square pancakes are the perfect compromise — all of the pancake flavor without having to spend 20 minutes at the stove.  I just mix up the ingredients, pour it in the pan, and while it bakes I can make the other breakfast components, finish packing lunches, and lay out their clothes for the day. Honestly, I think the taste of these pancakes is probably better than traditional pancakes.  They are fluffy and more cake-like — but with a pat of butter and warmed maple syrup, they are divine.  Bo agrees.  When I made them last week he ate four squares — and still wanted more!

Pancake Squares
Prep time:
Cook time:
Total time:
Ingredients
1½ cups skim milk
4 Tbsp melted butter
2 large eggs
2 Tbsp honey
1 tsp vanilla
2 cups all-purpose flour
4 tsp baking powder
½ tsp salt
Instructions
Preheat oven to 350. In a large bowl combine the milk, butter, eggs, honey, and vanilla. Mix well. Add salt and baking powder. Stir in flour until combined. Do not over stir. Spray 9 x 13 inch dish with baking PAM and then pour in the batter. Bake for 22-25 minutes. Cut into squares and serve with butter and syrup.
Updated to add – try these sprinkled with mini-chocolate chips before baking. Delish!