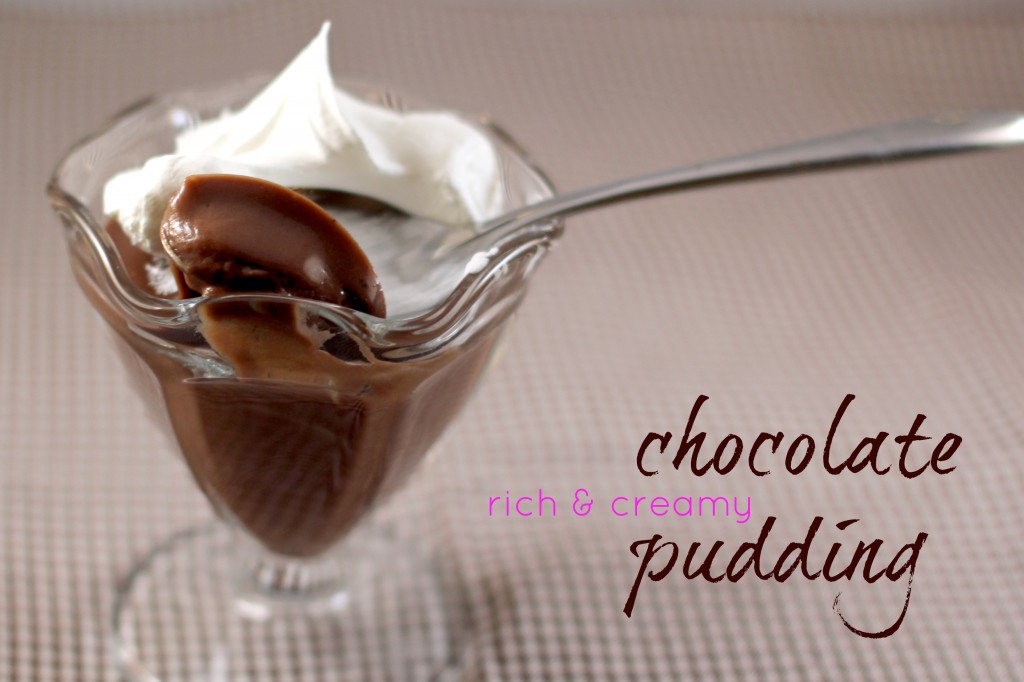 I'll admit to loving the Jell-O boxed pudding. Pudding pies and pudding cups made from the Cook-n-Serve Jell-O boxes was a staple in my mom's dessert repertoire.  However, my chocolate pudding of choice as a child was my typical breakfast when accompanying my grandpa to the local coffeeshop – a huge slice of homemade chocolate pie.  Usually he let me order a Sprite with it as well.  When I'm missing Grandpa and desire the creamy comfort of pudding, these days I generally choose to forgo the box and make the homemade version.  It reminds me of that coffeeshop pie – especially when I add whipped cream on top.
This rich and creamy version has the smooth texture of Jell-O with significantly more flavor.  While it still has plenty of sugar, the milk and eggs make this pudding protein rich and significantly less chemically than it's Cook-n-Serve counterpart.   And truly, it's just as quick and easy.
Bo's not a pudding fan (neither is Mike — I find them both strange) but the girls and I enjoy the creamy goodness of this chocolate pudding — sometimes even while it's still warm.  Anna and I made this together and she eagerly helped me lick the saucepan.  Waiting for it to cool thoroughly is the most difficult aspect of this recipe!

Chocolate Pudding
Prep time:
Cook time:
Total time:
Ingredients
⅔ cup sugar
3 Tbsp Cornstarch
3 cups whole milk
yolks of 5 large eggs
1 tsp vanilla extract
4 oz semisweet chocolate baking bar
Instructions
Whisk sugar, cornstarch, milk and yolks in a medium saucepan. Bring to a boil. Reduce heat and cook 2 minutes. Remove from heat and add vanilla and chocolate. Stir until well combined. The filling can also be used as a pie filling.
The leftover egg whites are great to use for Angel Food Cake.
***I often substitute skim milk for the whole milk because it's what we have on hand. The picture above used skim milk and it's still amazingly rich, creamy, and tasty!***