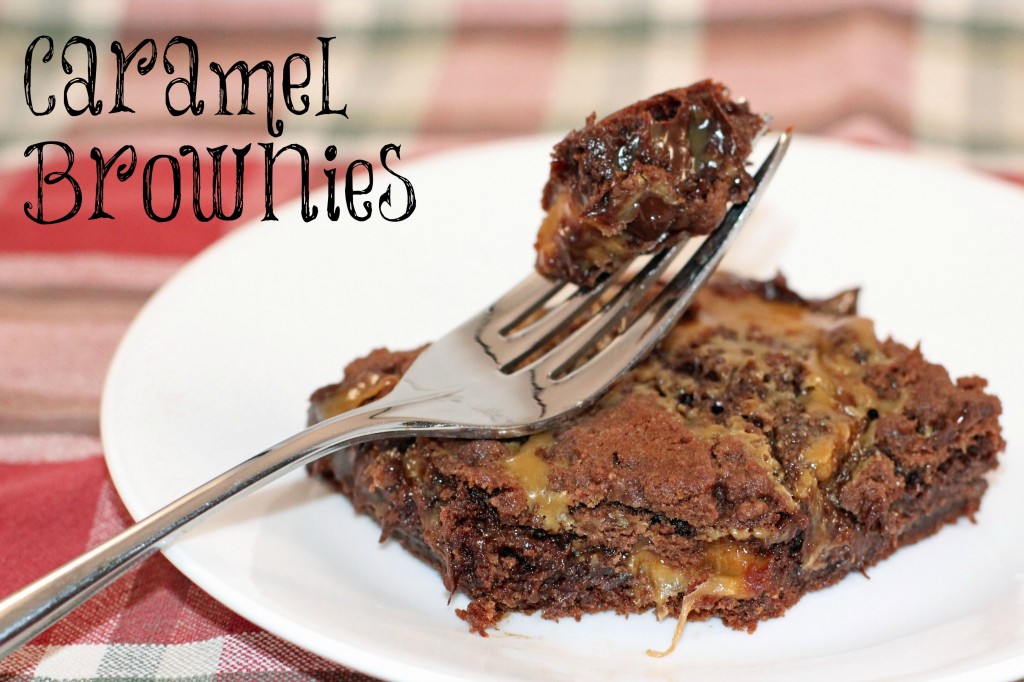 These brownies are to die for  — ooey, gooey, and delicious!  These have become my go-to recipe when we are invited to a friend's house for dinner.  They are always a hit — with kids and adults alike – and seem fancy but the recipe is actually very simple.
Tonight, we're going to our friends, the Cetwinskis.  I hope that Jen doesn't mind that I mangled the pan of brownies before bringing it over so I could take a picture of one.  And I did actually eat that bite that's on the fork.  The caramel was still warm and extra mmm!
This recipe originated from Mike's Aunt Cindy.  She made these for a family get together several years ago and they've been one of our favorites ever since!

Caramel Brownies
Prep time:
Cook time:
Total time:
Ingredients
1 package German Chocolate Cake Mix
1 12 oz. Bag of Semi-Sweet Morsels
1 stick butter
⅔ cup evaporated milk
1 bag caramels
Instructions
Preheat oven to 350. Melt butter. Blend dry cake mix, butter and ⅓ cup of evaporated milk in a medium size bowl with a spatula. Take ¾ of the batter and press into a 9 ½ by 13 pan sprayed with Pam or greased. Bake 6 minutes. While baking, melt the caramels and the other ⅓ cup evaporated milk. When done baking, sprinkle morsels on top, then pour caramel mixture over the top. Drop bits of remaining batter on top of the caramel. Bake for 16 to 18 minutes. Devour! Great with vanilla ice cream.